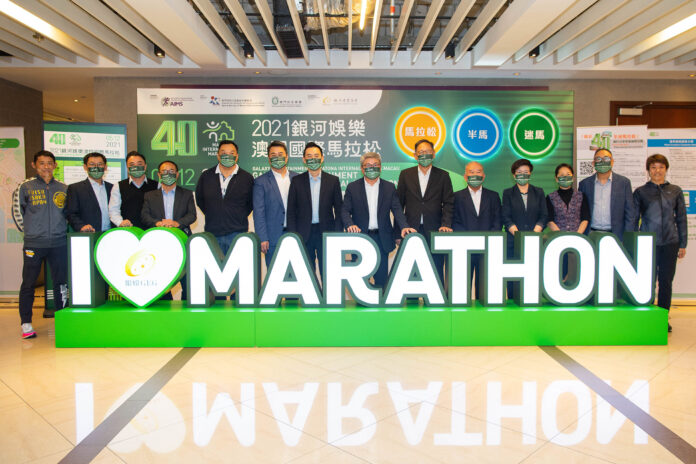 Galaxy Entertainment Group has unveiled the 2021 Galaxy Entertainment Macao International Marathon Carnival, highlighting its efforts to enrich the city's sports tourism offering.
As one of the Macao International Marathon's 40th-anniversary special promotion activities, the six-day carnival opens from November 29 to December 4 at the Broadway Food Street of Broadway Macau.
The carnival allows participants, residents, and tourists to immerse in the atmosphere of the marathon prior to the event through the incorporation of different elements, such as sports, delicacies, entertainment and cultural arts. Through organizing the carnival, GEG hopes to enrich Macau's sports tourism offerings and showcase the city's unique charm as a World Centre of Tourism and Leisure. 
The kick-off ceremony was held at the first floor of Broadway Theater and officiated by a number of honourable guests, including Mr. Pun Weng Kun, President of the Sports Bureau of the Macau SAR Government; Mr. Ng Iok Tong, Chairman of Supervisory Committee of the General Association of Athletics of Macau; Mr. Philip Cheng, Director of GEG; Mr. Lau Cho Un and Ms. Lam Lin Kio, Vice Presidents of the Sports Bureau of the Macau SAR Government.
Mr. Pun Weng Kun said in his speech, "The Macao International Marathon is in its 40th year. As the event continues to grow, its peripheral activities have become more abundant. For example, the 2021 Galaxy Entertainment Macao International Marathon Carnival adds many elements to this year's race. On behalf of the Organizing Committee, I thank GEG for animating, supporting and title-sponsoring the event for 18 consecutive years."
Mr. Philip Cheng said, "GEG would like to extend our thanks to the organizers. Their trust and support has allowed us to launch an array of unique promotional activities for the Marathon over the years, which were well-received by the community. Through supporting the Marathon, GEG hopes to advocate the importance of sports for all, and support the Macau SAR Government in facilitating the cross-sectoral development of sports and tourism in Macau."
In addition, renowned local runners, Mr. Chan Chong Ip and Ms. Hoi Long; and Mr. Ray Fong, the leader of the Runner's Club of the GEG Staff Social Club, were also invited to the opening ceremony to share their marathon preparation tips and experience with audiences.