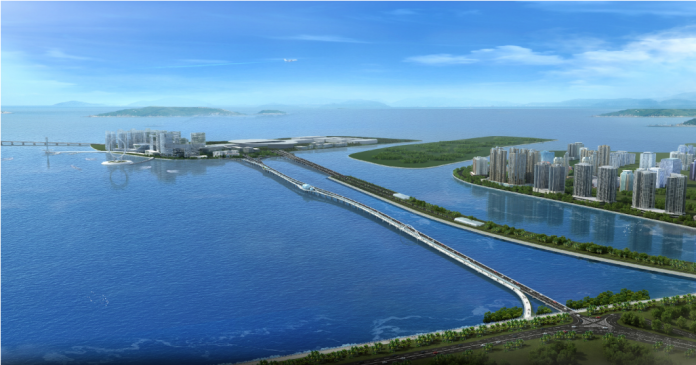 Zhuhai authorities have submitted a new proposal for constructing a new link between the artificial island of the Hong Kong-Zhuhai-Macau Bridge and the Gongbei district.
According to the person in charge of the public works construction, the project aims at easing the traffic pressure of entering and leaving the artificial island in Gongbei area.
The construction plan includes a passage of 2.2 kilometers, encompassing four lanes. Zhuhai plans to start the passage construction right in 2024.
Hong Kong people will be able to drive self-owned cars into Mainland China via the Hong Kong-Macau-Zhuhai Bridge from July 1st, meaning that all cars from Hong Kong will enter Zhuhai.
Before that, the same scheme started with Macau this year.  310,000 trips have since been recorded. The traffic volume even surged to the 100,000 mark in May.
The Hong Kong-Zhuhai-Macau Bridge was officially launched on October 24th, 2018.  Its artificial island near Macau's Area Preta e Gongbei has become an important transportation hub.
According to the initial planning, the long-term customs clearance capacity will reach 450,000 persons a day, of which the customs clearance capacity of the Zhuhai-Hong Kong checkpoint is 300,000 persons daily and that of the Zhuhai-Macau checkpoint is 150,000.