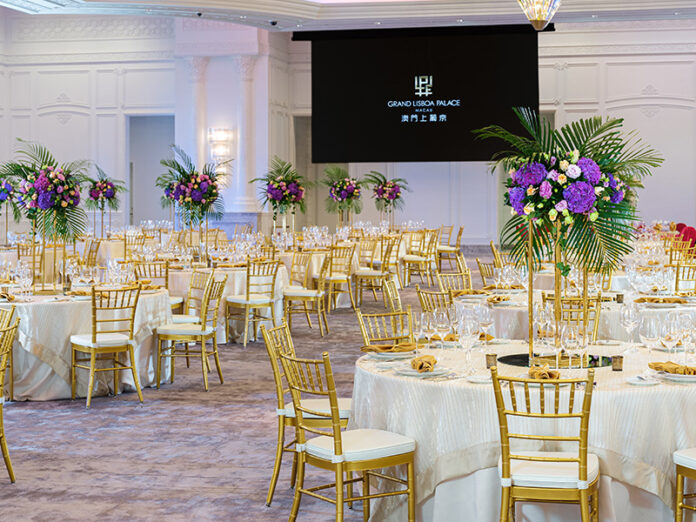 Grand Lisboa Palace Resort Macau will hold the "One of a Kind – Grand Lisboa Palace Wedding Fair" on March 26 and 27, showcasing the Resort's picture-perfect indoor and outdoor venues for weddings as well as holding various wedding-related workshops and activities. In addition, many major outlets of The Bazar, as well as participating exhibitors, will offer a series of limited-time wedding promotions as part of the wedding fair.
Prospective couples who make a booking for the "One of a Kind – Grand Lisboa Palace Wedding Fair" will be entitled to a special Grand Lisboa Palace wedding package with banquet table prices starting at MOP 13,999+ per table, as well as additional complementary services valuing at more than MOP 75,000 including:
· a five hour Rolls Royce bridal limousine service,
· wall-mapping projection technology at the Grand Pavilion,
· the "Sweet Cart" wedding desserts,
· a French-style afternoon tea set for six persons,
· wedding guest souvenirs,
· a spa package for the couple, and
· wedding photo opportunities on the grand twin-staircases and Jardim Secreto
The two day "One of a Kind – Grand Lisboa Palace Wedding Fair", held on Level 4 of Grand Lisboa Palace, will offer guests a chance to visit the Grand Pavilion, a pillar-less ballroom that can be arranged into a romantic setting for either Chinese or Western styles of wedding banquets.
The Grand Pavilion is elegantly intricate and can accommodate up to 1,500 guests for a cocktail reception, or 780 people for a round-table banquet. State-of-the-art LED lighting and built-in wall-mapping projection technology, customisable LED walls and LED lighting effects make the venue suitable for different wedding themes and perfect for a wedding banquet.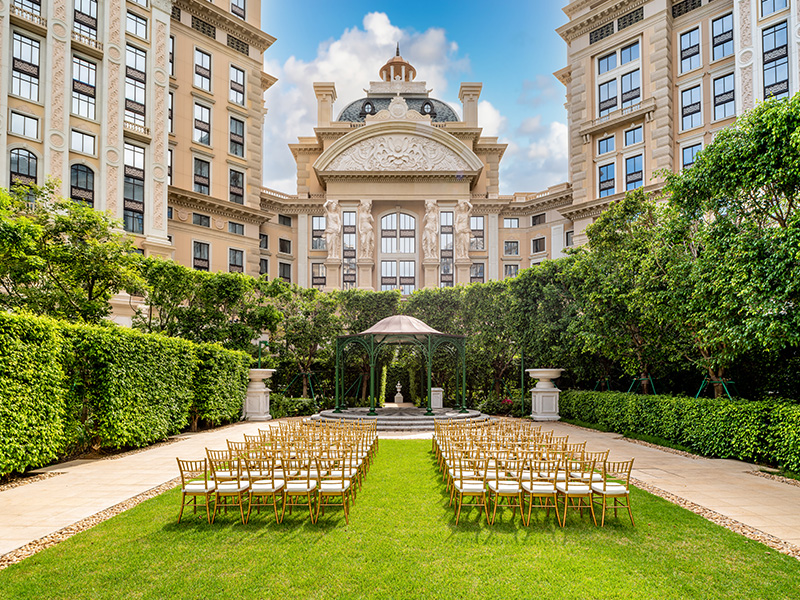 Outside the Grand Pavilion are the grand twin-staircases, where guests can access the lush and verdant Jardim Secreto. A beautiful mock wedding will be set up at the east gazebo for couples to experience the warmth and romance of an outdoor Western-styled ceremony.
The picturesque European-styled garden of perfectly manicured greens, landscaped patios and gazebos that can accommodate 80 to 200 guests, is nestled between the Resort's hotel towers and centred around an ornate dome. This inspiring outdoor venue is perfect for various receptions and cocktail parties.
During the wedding fair, a wedding gown fashion show will take place to provide exquisite inspiration for couples on their special day. There will also be lectures on wedding planning, beauty and skin care; professional gown selecting; perfume and flower workshops.
In addition, Grand Lisboa Palace's catering team will showcase the special "Sweet Cart" wedding desserts as part of the Resort's wedding package, with guests able to taste a variety of delicacies on the spot. 
Furthermore, a number of exhibitors will participate in the wedding fair with promotions such as the Resort's retail outlets NY8 New Yaohan, cdf Macau Grand Lisboa Palace Shop, Chow Sang Sang Group; The Spa at Grand Lisboa Palace Macau and Gentlemen's Tonic; as well as supplier sales on items including jewellery, wedding gowns, wedding planning, wedding emcees and video, wedding photo shooting, and beauty and skin care.