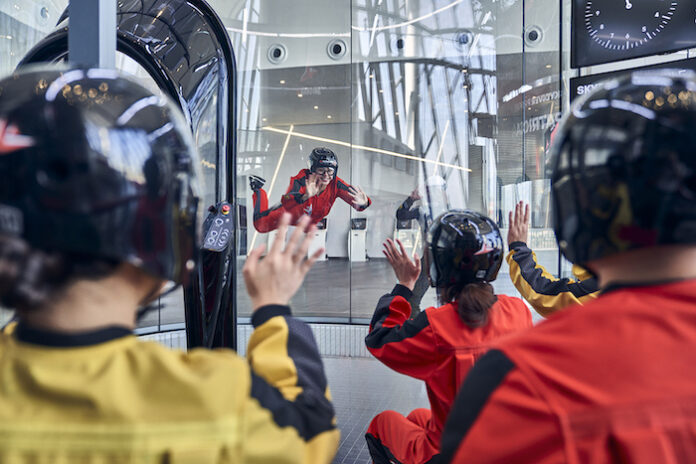 Lisboeta Macau, developed by Macau Theme Park and Resorts, will open up some non-gaming attractions on July 17th, including an indoor skydiving centre, ziplining and a night market.
The Cotai property, which has no gaming, will eventually have 820 hotel rooms.
Macau Palace, Lisboeta Macau recreates the former floating casino Macau Palace, which is a symbolic landmark in Macau, it was featured in the 1974 James Bond classic film "The Man with the Golden Gun". The replica is decorated with ornate Chinese carvings, wood mouldings and lanterns, all of which will be surrounded by an artificial lake. In contrast to the Macau Palace, the yellow architect on the opposite side recreate the scenery of floating casino berthing on the side of Rua das Lorchas.
Night Market @ Lisboeta located in front of the replica of "floating casino", Macau Palace and hotel façade that reference from Hotel Estoril's mosaic wall. Guests may enjoy their delicacies surrounded by nostalgic attractions, adding a new destination to the night life of local cuisine. As new destination to Macau, the City of Gastronomy, offers locals and tourists a unique check-in place combines with leisure, entertainment as well as cuisines, showing Macau's splendid East meets West cultural characteristics.
GoAirborne is the first indoor skydiving facility in Macau, inhabited a fully frameless glass tunnel spans over 4 meters in diameter and stands at 15 meters tall to simulate actual flying visual experience, which is the first in Asia Pacific.
Offering an adventurous journey for first-time flyers as young as 4 years old to the most accomplished skydivers, visitors will be able to experience the real sensation of free fall in a safe, controlled indoor environment guided along by internationally certified tunnel instructors.
ZIPCITY is world's first audio-visual zipline attraction and Asia Pacific's first urban zipline. ZIPCITY offers panoramic views of Cotai Macau and combines the exhilarating thrills of ziplining with an extra-sensory audio-visual experience.