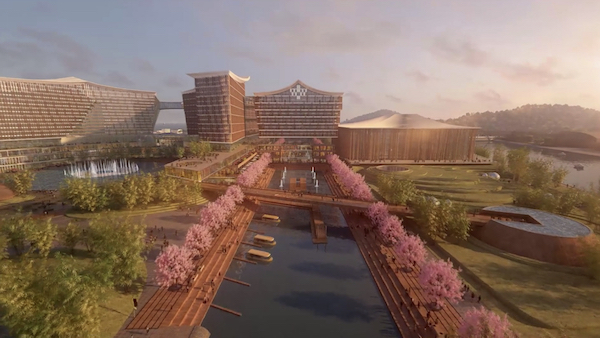 Wakayama's IR bid appears to be on the ropes as the Suncity Group has withdrawn from the RFP process.
This leaves the Wakayama RFP—which has been delayed for what until now had been unclear reasons—with only one remaining applicant. It doesn't help that the last firm standing, the Clairvest Group, may or may not have presented the prefectural government with a credible proposal.
All that is known is that Clairvest has been seeking for the past year to "quarterback" an IR bid together with other unnamed partners, but the degree to which the Canadian investment firm has succeeded in making strong allies remains to be seen.
The two scenarios which seem to remain are that, like Osaka, Wakayama is now left with a single potential IR consortium against which it has little leverage, or else the prefecture's bid for an IR license will soon collapse altogether.
Either way, the chances of seeing an IR built at Wakayama's once-coveted Marina City location are clearly fading.
Before its sudden withdrawal, the Suncity Group had been taking quite a high profile.
The firm opened an office in Wakayama City last September and has been active in cultivating community support. Included among these efforts were a sponsorship deal with the local professional basketball team, the Wakayama Trians, and interaction with the local yachting community.
A statement from Chairman Alvin Chau on the company's Japanese-language website explains, "After deep consideration, we have made this difficult decision under the enormous impact on the industry due to the spread of the new coronavirus infection. Many companies anticipate a long period of uncertainty, and the IR certification process in Japan appears set to take a lot longer than expected. Many things remain unclear, but we must consider the risks as a business operator."
However, the decision appears to have come quickly. On May 1, Yoshikatsu Ohara, president of Suncity Group Holdings Japan, publicly promoted the firm's bid at a general meeting of the Wakayama IR Promotion Council.
The group has been actively focused on Japan as an increasingly popular destination for Chinese travellers, its main client base. In 2019, it said it was buying a plot of land on Miyako island in Okinawa to build a non-gaming resort.
It said it intends to build 40 villas with a pool and a hotel of more than 100 rooms, saying that with the increased number of Chinese visitors traveling to Japan, and newly operated direct flights to Shimojishima Airport, the acquisition represents a good opportunity to expand Suncity's tourism-related business and to diversify its focus, from China to the East Asia region.
Suncity's departure from the IR race probably explains why the Wakayama Prefectural Government has fallen behind its own timeline for naming its IR operator partner.
Attention now must turn to whether Clairvest is declared the winner, or if Wakayama itself withdraws from Japan's IR race. (AGB Nippon / AGB Nippon – JP )