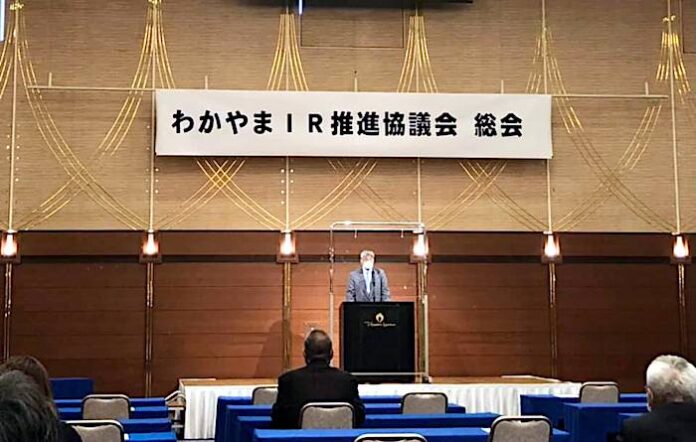 A general meeting of the Wakayama IR Promotion Council held last weekend passed a resolution urging the prefectural government to make its decision on an IR operator partner as soon as possible.
The council was established in July last year and includes about a hundred local companies that have been holding study sessions about IRs, and it has now become a lobby group.
The prefectural government has repeatedly pushed back its target date for operator selection, in spite of the fact that the selection committee has been in place for over a year. Originally the decision was to be made in the autumn of 2020. This target was delayed to January of this year. The most recent published plans said the selection would come in spring of this year.
Now that it is May and summer is approaching, it is not clear what the government's intention is—and thus the push for a decision by the Wakayama IR Promotion Council.
The general meeting had about one hundred people in attendance. Secretary-General Katsuaki Shirako declared, "When considering the era after the coronavirus, Wakayama will have a very difficult economic environment if the IR does not come." He added that the operator candidate that had the most points in favor should be selected without delay.
Although not made explicit, it's easy to guess that among the two candidate operators—the Suncity Group and the Clairvest Group—it is the former which is preferred by the council.
Suncity opened an office in Wakayama city last September and has been in regular communication with the local community. Indeed, Yoshikatsu Ohara, president of Suncity Group Holdings Japan, attended the council's general meeting and was invited to speak. He asserted that wealthy people around the world would be attracted to a more rural location like Wakayama and expressed confidence that the IR would be a big success.
By contrast, not only does the Clairvest Group not have an office in Wakayama, but apparently the Wakayama IR Promotion Council were not even able to successfully make contact with them.
It was exactly a year ago that Clairvest told Asia Gaming Brief that it would be acting as a "quarterback" for an IR consortium at the Wakayama site, and although they did submit their proposals to the prefectural government, they have otherwise been publicly silent.