Delta Corp, India's largest gaming group, sees a bright future as Covid restrictions ease after pent-up demand drives its latest quarterly results to record levels.
The company, which runs three floating casinos in Goa, a property in Sikkim and another in Nepal, said net revenue for the quarter ending December was 247.2 crore, up from 120.8 crore in the same quarter a year earlier.
Total income from gaming operations came in at 249.6 core, compared with 97.5 crores the year prior, while income from the online business was lower at 35.7 crore from 40.45 crore.
It posted a profit attributable to owners of the company of 70.38 crore up from just 1.28 crore in 2020.
Chief Financial Officer Hardik Dhebar said the revenue and EBITDA were historical records for the quarter and that there are numerous drivers for further growth, pandemic restrictions permitting.
The company's Goa operations were closed from the third week of March last year, though to October. Sikkim was allowed to open from August 16th, while Nepal resumed operations from September 8th.
The rapid spread of Omicron led to the re-imposition of operating restrictions in Goa, which can only operate at half capacity. However, after rapidly spiking upwards over the Christmas period, infections in the main cities of Mumbai and New Delhi have seen a sharp decline with very few hospitalizations.
As a result, Dhebar said he expects Covid to slow the speed of growth in Goa at the beginning of the year, but won't derail it altogether.
He told BloombergQuint in an interview that Covid had finally led to a shift in gaming behaviour in Goa, which he hopes might ultimately lead to increased revenue.
Traditionally, the Indian players had only come into the casinos after 7.30 p.m., despite the properties being open all day long. In early January, the state imposed a night time curfew from 11 p.m, which has encouraged players to visit during daylight hours.
"It's a culture we've been trying to build, as if you go to Hong Kong, or Singapore or Vegas it's 24 hours," he said. "At present we're only operating 50 percent of the 24 hours in the real sense of the term, so if it picks up that will expand revenue."
He also said that Goa was in a privileged position as it was already a favourite holiday destination for Indians, even before border closures elsewhere narrowed their travel options.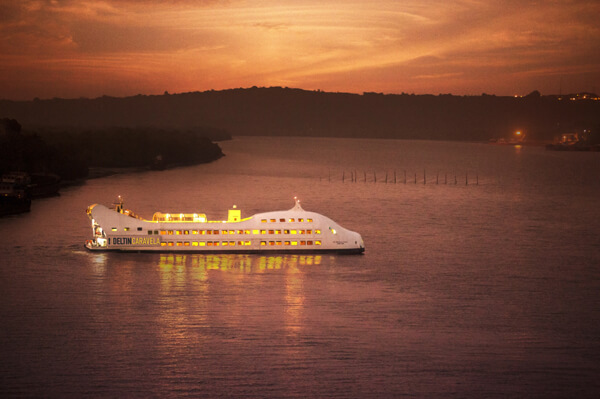 However, of the 7 million who visit the state, only about 2 million venture into the casinos, he said, adding that indicates a large untapped market.
The company is also replacing one of its smaller vessels in Goa – the Deltin Caravela – with a new boat that will increase capacity by about 2.5 times, which will also address the problem of overcapacity at peak times.
"In a blue sky scenario there is a lot of room for growth."
Despite his upbeat projections, it hasn't all been plain sailing for the operator. The Goa state cabinet recently said it has deferred the decision to set up an investment promotion area in Dhargalim, Goa, where Delta Corp is planning to build an integrated resort.
The cabinet decided to defer the decision after an objection from Pernem MLA and deputy chief minister Manohar Ajgaonkar, who did not want casinos in his constituency.
The company is looking to set up an integrated resort over 30 hectares at Pernem, which industry observers have said would be a game changer for India, introducing the first true land-based IR.
The project includes three hotels, a convention center, and cinema, retail area, water park, banquet facilities, and a children's entertainment area.
The application to set up the integrated resort in Dhargalim in Pernem was sent by Delta Corp in December 2019, which included a request for the Goa Investment Promotion and Facilitation Board to notify the area as an investment promotion area.
The board granted an in-principle approval to the project in October 2020, whilst the recommendation to set up an investment promotion area was given on September 1, 2021.
However, an objection was filed by the group under the Calangute Constituency Forum on December 15, 2021, saying that the in-principle approval for the project was not in the interest of the Pernem people, particularly those of the Dhargal village and the state at large.
---
Tamil Nadu govt. still pursuing online gambling ban
The Tamil Nadu government is reportedly still committed to ban online gambling in the state, including games of skill, online rummy and online poker, even though such a ban was struck down by the Madras High Court last year. Tamil Nadu Chief Minister M K Stalin said there will be an end to online gaming with stakes "soon" when responding to a question raised by a fellow politician.
According to local reports, Stalin pointed out that cases related to online gaming are pending in the Supreme Court and that his government will follow a legal route towards ensuring a ban.
The state government imposed the ban last year following concern over residents committing suicide after losing money. It was challenged by skill-based online gambling firms, who won their case in the high court.
---
India aims for top tourism spot by '30
India has launched a new tourism policy that aims to put the country in the top five international tourism destinations by 2030. The plans include increased direct air connectivity, a mobile app for e-tourist visa applications and the creation of special tourism zones. "Idea is that post pandemic, if the tourism sector has to be strengthened, then there should be a long-term vision.
There are five main features in the policy, which we will take up as missions. The policy has been circulated among the ministries and state governments; after examining feedback from them, the process to notify the policy will be expedited," Rakesh Kumar Verma, additional secretary, ministry of tourism, was cited as saying by local media.