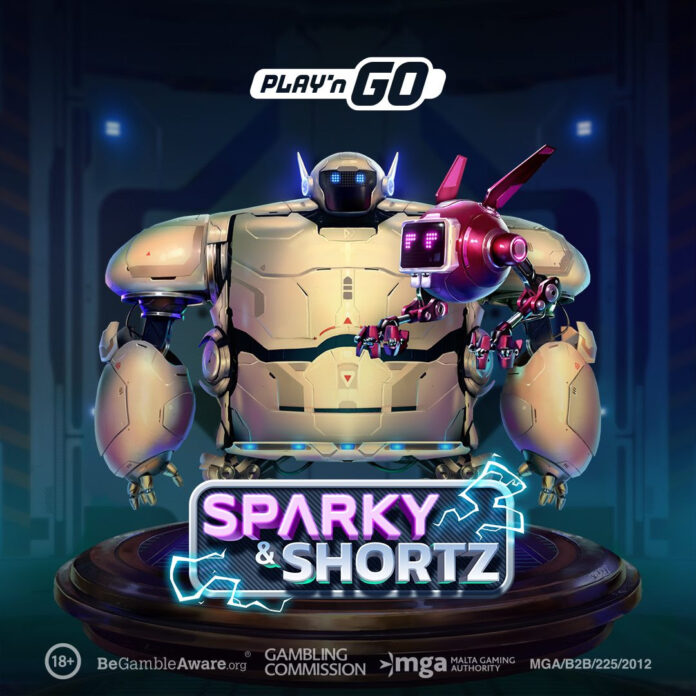 Will robots Sparky & Shortz save the planet Alpha Labori? Find out in Play'n GO's latest release.
Alpha Labori is on the brink of extinction. Its only hope is a maintenance droid, Sparky, and his companion, Shortz. Shortz is a life-saving robot, but he's in dire straits. Before they have a chance of helping to repopulate the planet, Sparky must get Shortz in working condition. Time is not on their side.
The game has very clear objectives and goals. Starting in the basement, the player must move Sparky & Shortz up the levels to surface at the alien world so they can complete their mission. There's enormous Multiplier potential on the table with the Boost Meter. When activated, it will increase the Multiplier number.
A strong narrative plays throughout the game for players to engage with. The title characters play a huge role in this game, so much so that Shortz serves as the background for the reels. Shortz soon fills with brightly coloured stones and quirky aliens that inhabit the world of Alpha Labori.
These loveable characters inspire a sense of fun for the player. Both Sparky and Shortz's facial features react to how the player is doing at the time. Their digital faces may look sad or ecstatic, and Sparky's ears also move to reflect his emotions. Ralph, Bumi and Legs, the aliens on the reels, also have little quirks as they evolve when they become stacked symbols.
Head of Games Charlotte Miliziano, said:
"We knew we wanted to head into Outerspace once again, and we liked the idea of robots meet aliens. A strong narrative was really important in this game. And to have the protagonists Sparky & Shortz super animated is a great way to connect with players as they then invest in the story."