NagaCorp's NagaWorld in Phnom Penh has defended its relationship with unionized workers after the treatment of striking employees by local authorities raised concerns amongst human rights organizations and the U.S.
In a public statement published in the Khmer Times, the company stressed that union membership was not a criteria that came into play when making decisions on downsizing its workforce.
The company released statistics that showed that it has reduced its employee headcount from 8,371 at the end of 2020 to 6,181 by the end of 2021. It said union membership had dropped from 3,976, or 47 percent of the total to 2,572, or 42 percent, showing little change in the overall level of unionized workers.
"In fact, with great emphasis towards protection of interests and right towards staff welfare, the company has always encouraged and emphasized staff to form unions since its inception in 1995."
NagaCorp, which reported a net loss of $77 million in the first half of last year, said it had been forced to take cost cutting measures due to the impact of Covid and as a result, employees were offered a Mutual Separation Plan, which it said offered better benefits that those required under Cambodia Labour Law.
The company said 360 out of 1,329 affected employees refused to accept the plan and issued the company with a strike notification on December 18th.
However, Cambodian authorities' heavy handed treatment of the striking employees risked becoming a cause celebre for civil rights movements in the country.
Police arrested nine on New Year's Day and a further 15 were detained a few days later, including union leader Chhim Sithar. She was reportedly dragged away after stepping out of her car at the demonstration.
The U.S. embassy in Phnom Penh expressed its concern through a tweet, whilst other human rights experts also weighed in on the threat to the peaceful right to protest and to organize labour movements.
"We are following closely the troubling arrests of @NagaWorld union members for their peaceful expression and urge authorities to hear citizens, not silence them," the embassy said in a tweet. "Freedoms of speech, assembly & association are guaranteed in the Cambodian constitution. Police have called the strike illegal and a threat to social order.
Naly Pilorge, executive director of rights group Licadho, told Al Jazeera the treatment of the NagaWorld strikers was just the latest example of the authorities using criminal proceedings to keep a lid on dissent.
"No one who looks at this strike, of hundreds of mostly women union members peacefully gathering to demand their labour rights, can possibly argue that it threatens 'national security' or causes social disorder," Naly said.
NagaCorp has stressed that it was business as usual for the company despite the strike and that visitation has been increasing since the resort reopened after Covid lockdowns on Sept. 15. It will report its second-half results in early February.

"In its nine-month results, the company reported strong pent-up demand post reopening."
Despite the fact the property was closed for more than six months of the reporting period, average daily gross gambling revenue in the premium mass segment was just 7.9 percent lower at $285 million.
Electronic gaming machines also performed well, with average daily GGR down 8.2 percent at $294 million. Mass tables GGR fell 36.6 percent to $415 million, while average VIP revenue plunged 62.4 percent to $814 million.
Although locals aren't allowed to gamble, Naga reported that its business had been supported by "quality play" coming from the captive expatriate community living in the city. Local Cambodians are not permitted to gamble.
Cambodia was one of the first countries in Asia to reopen its borders to foreign travel, allowing quarantine-free entry to all countries from November 15th. Despite rising Covid cases, that policy remains in place.
Authorities have also been in talks about reopening land borders between Vietnam and Cambodia to facilitate trade flows.
---
Improved infrastructure to boost gaming demand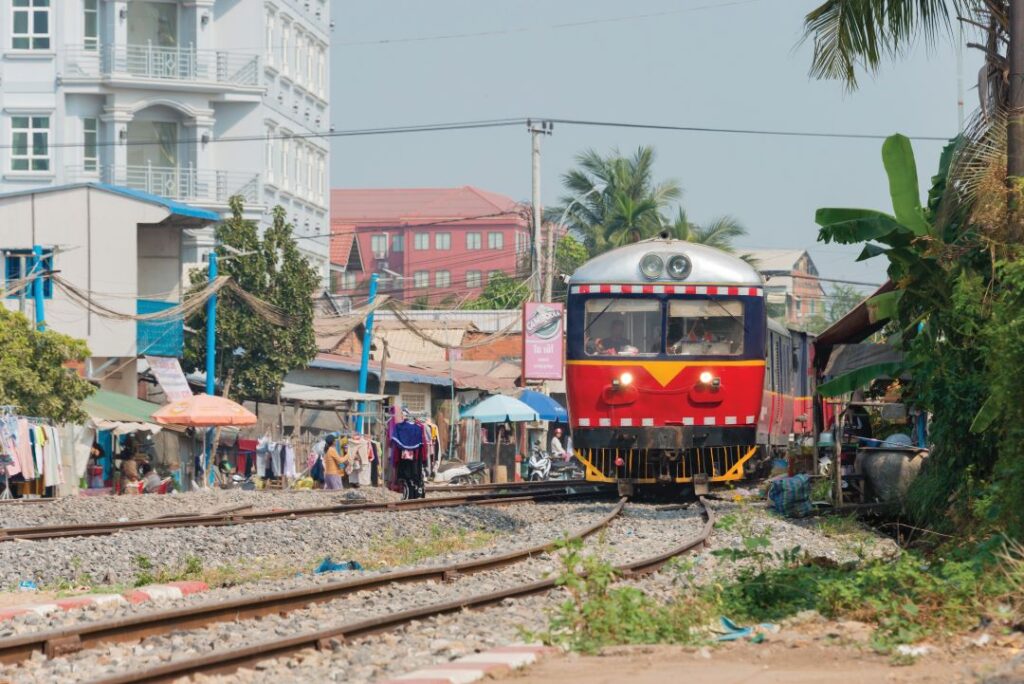 Gaming industry expert Andrew Klebanow, co-founder of C3 Gaming, says he expects transport infrastructure projects in Asia to help boost gaming in the Klebanow said a new four-lane highway connecting Phnom Penh with Sihanoukville, is expected to open in 2023.
"Prior to the pandemic, its casino-resort industry enjoyed rapid growth due to its nearby regional airport. The new highway is expected to attract expatriates residing in Phnom Penh, eager to escape the heat, humidity and congestion of the capital city for beachside vacation experiences." Similarly, Klebanow noted the 414km high-speed rail network between China and Laos, which opened on December 3, represents a major milestone in the PRC's Belt and Road Initiative.
The network will eventually connect Southern China and Laos with Bangkok, Phnom Penh, "Transportation infrastructure has long played a critical role in the success of casino development," said Klebanow in a commentary to CDC Gaming reports.
---
Naga/Wynn at most risk from VIP shrinkage, Morgan Stanley says
NagaCorp and Wynn Macau are the operators likely to see the most impact from any further reduction in VIP volumes, though for most companies around Asia the risk to EBITDA is not high, Morgan Stanley said in a note. The firm has calculated which Asian operators get the highest proportion of their EBITDA from the VIP sector and how much of that is from the Mainland Chinese VIP segment.
NagaCorp's NagaWorld property in Phnom Penh had the highest exposure of all companies covered by Morgan Stanley at 45 percent in 2019. The firm estimates that 25 percent of that EBITDA came from wealthy Chinese. "This was the result of Naga's high revenue exposure to VIP (72 percent of GGR) and higher margin (24 percent), reflecting lower tax rates and opex," it said.