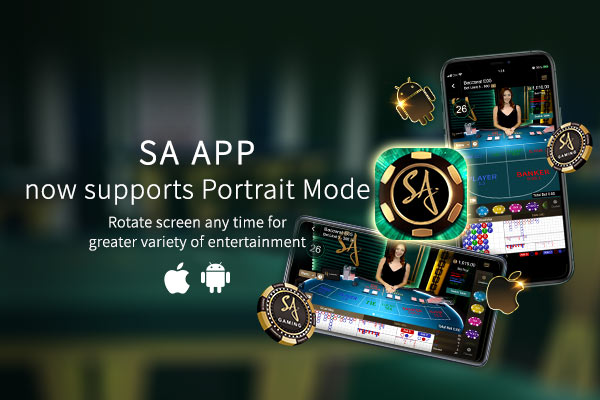 Mobile gaming is a huge market where technologies are ever-changing. To stand out from such competition, suppliers have to combine technology, innovation and design into products and features that can win the favour of the market. As one of the leading platforms in Asia, SA Gaming has recently made portrait mode available to its native app, SA APP.
Most of the apps available in the market can only run in landscape mode. SA APP offers its users both landscape and portrait modes. Most important of all, users can rotate their screens any time in the app to achieve seamless orientation change. Gaming has become even more convenient.
SA APP is a one-stop mobile gaming portal developed by SA Gaming. Apart from supporting in-game screen rotation, it comes with several features that provide the best user experience for players. Containing all the functions of H5 Mobile, SA APP has its UI re-designed and re-engineered to cater for human needs and to fit across all screen sizes. SA APP is compatible with both iOS and Android devices. The app is capable of fitting in various screen sizes – both landscape and portrait orientations.
SA APP also places great emphasis on ease of use. The provider has spent enormous resources to add features that facilitate the use of the app. There are various modes of log-in to suit users' needs. Other than conventional password log-in, there is pattern log-in, where users can draw unique patterns to access the lobby effortlessly.
SA APP is the hard work of SA Gaming's programmers and designers, who spend their every effort to ensure everyone can enjoy a great and smooth gaming experience. It is the gaming app that all players need on their devices.