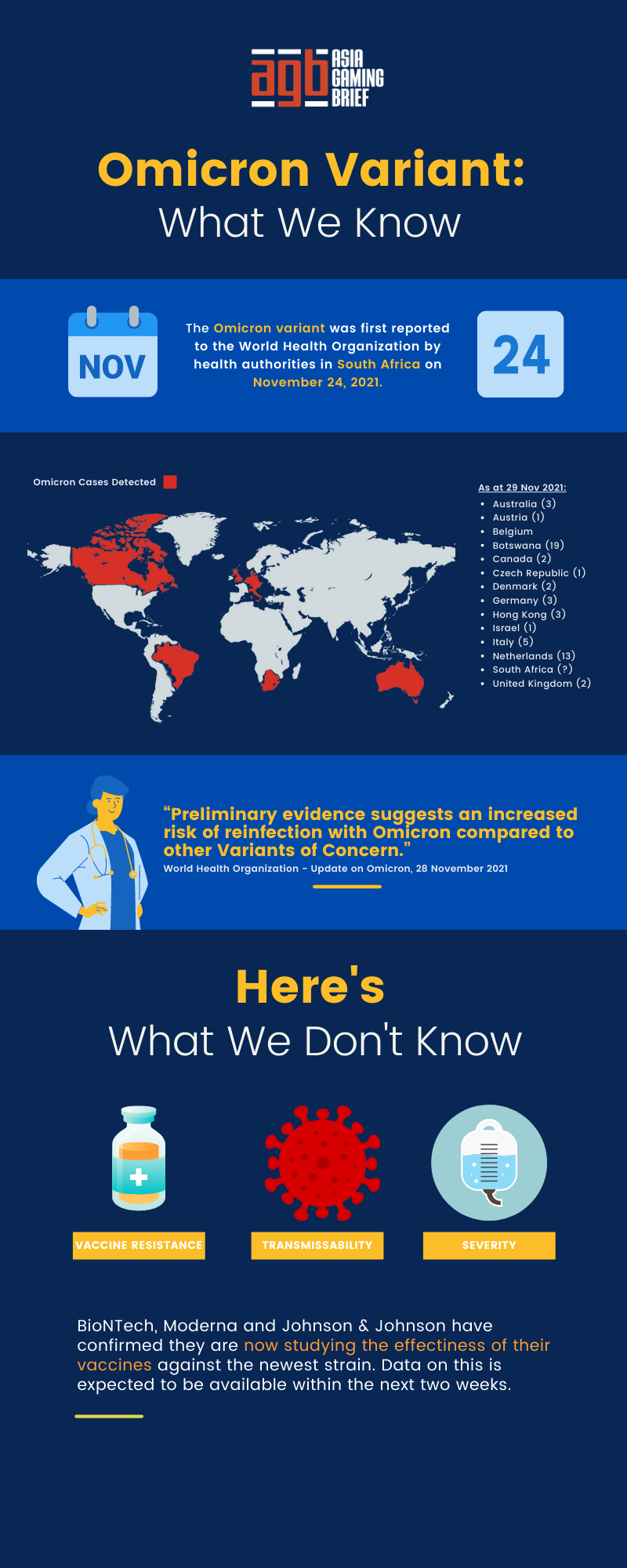 A new variant of SARS-CoV-2, known as B.1.1.529 or Omicron, started to make global headlines over the weekend, with many fearing it could trigger another wave of infection and lockdowns akin to the highly contagious Delta strain earlier this year.
The World Health Organization (WHO) on Friday released a statement classifying Omicron as a "Variant of Concern" (VOC), but not a lot is yet known about the new strain and particularly how effective current Covid-19 vaccines are against it. Also unclear is how much more transmissible or deadly the variant is compared to the Delta strain.
Today's infographic looks at what we know (and don't yet know) about the Omicron variant.
What we know:
B.1.1.529, or Omicron, was first reported to the WHO by South African health authorities on November 24, 2021, though some experts suggest that the variant was most likely flying under the radar in some underdeveloped countries for a period.
It was detected after scientists researched a sudden exponential rise in daily Covid-19 cases across the country, from 274 cases on November 11 to 1,000 only a fortnight later.
The WHO has classified Omicron as a "variant of concern" due to its large number of mutations – around 30 in the spike protein – which could improve its transmissibility.
So far no deaths associated with the Omicon variant have been reported.
"Preliminary evidence suggests an increased risk of reinfection with this variant."

World Health Organization, Omicron Update 28 November 2021
The Delta variant however, is still the dominant strain, accounting for 99 percent of sequences submitted to the biggest public database.
The Omicron variant has already been confirmed in Hong Kong, Netherlands, Denmark, Belgium, Botswana, Germany, Israel, Italy, UK, Canada, Australia, Czech Republic, Austria and South Africa – most of which are single digit cases detected at the border before entry.
WHO said the overall risk related to the new variant is "very high" but admits that the evidence for this assesment contains considerable uncertainty and will be updated as more information becomes available.
What we don't know:
How resistant is the strain to current vaccines?
BioNTech SE, the company behind the Pfizer vaccine, on Friday said it expects more data on the new strain to be available within two weeks to determine whether or not its vaccine will need to be reworked. If needed, it would take around 100 days for the new vaccine to be ready to ship. Moderna Inc said in a statement it is working to advance a booster candidate tailored to the new variant and is also testing a higher dose of the existing booster. Johnson and Johnson said it is also closely monitoring emerging strains of Covid-19 and testing the effectiveness of the shot against the new variant.
How transmissible is the new strain?
Health experts say the data so far is consistent with enhanced transmissibility, though it is not possible to assess how much just by looking at the virus' sequencing.
How deadly is the new strain?
There is currently no answer as to whether the Omicron strain poses a public health threat, however, there is no evidence so far that the new strain causes more severe disease. There is also not enough data on how the variant interacts with a vaccinated population, as South Africa's population is only ¼ fully vaccinated.
Are foreign nations' reactions, such as their immediate border closures justified?
South Africa's foreign ministry on Saturday strongly criticized the mounting travel bans placed on its nation and surrounding countries, calling the ban unjustified.
Some health experts believe that closing the borders will do more to contain the spread if done earlier, unlike what happened with India's Delta variant, which was allowed to seed around the world weeks before border closures were put in place. Other experts said the increased transmissibility of the new strain could make border closures and lockdowns largely ineffective against it.
Countries that have announced new measures to restrict flights from the region include Australia, Canada, India, Japan, the UK, and the US.
While the new variant is a cause for concern, it is worth taking note that similar concerns were made for the Covid-19 Beta and Gamma strain, both of which had fizzled out soon after. Until we know more, there's no need to panic.