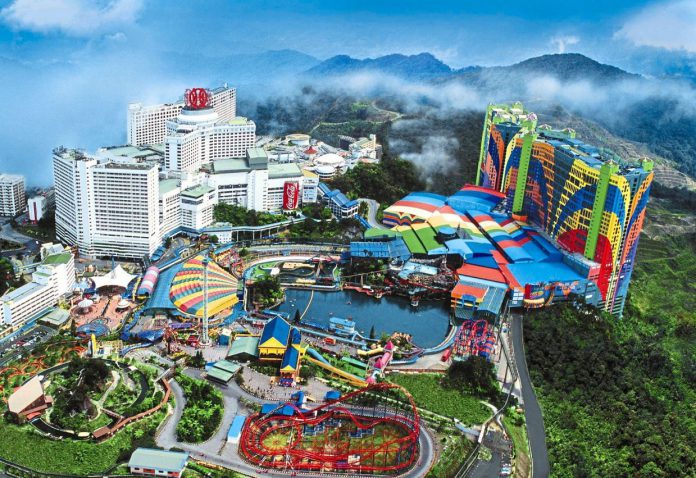 The month of October has seen more countries in Asia coming out of lockdown and in some cases, opening up their borders for domestic interstate and international travel. More confidence is building in Asia – and both analysts and industry observers are waiting patiently for the day pent-up demand meets quarantine-free travel. Our October "Which casinos are open" update details the state of casino openings across Asia as of October 26, 2021.
Macau
Macau's 41 casinos, which are run by six concessionaires, are all currently open. The SAR is one of the few remaining jurisdictions in the world still chasing a zero-covid policy. However, the government has hinted this could change once enough of its citizens are vaccinated. The borders between China and Macau were effectively closed after an outbreak of the delta strain on September 26, causing Golden Week visitation to plummet, but borders between Zhuhai and Macau reopened again in mid-October. Casinos were open throughout the entire period. 
Casino Oceanus suspended operations in early October for cleaning. The Grand Emperor Hotel was under lockdown for two weeks, which was lifted on October 19. 
All properties are open as of today. 
Malaysia
After vaccinating 90 percent of adults, Malaysia announced that from Monday, October 11, the country will reopen interstate and international travel for residents fully vaccinated against Covid-19. This would allow for fully vaccinated Malaysians to travel overseas without applying for permission and comes as the country moves away from its zero-covid policy. 
Genting Malaysia, the country's sole casino operator, reopened Resorts World Genting had already reopened some of its facilities in late September to those residing with Langkawi. However, with the government opening up interstate travel in October, analysts were upbeat about the company's recovery prospects over the months ahead.
Resorts World Genting: Reopened with restrictions on September 30, 2021 
Philippines
After being put into lockdown at the end of July on concern about the spread of the delta variant, presidential spokesperson Harry Roque just two weeks ago announced that the Metro Manila region moving to an Alert Level 3 from October 16 to 31, allowing for indoor dining, MICE events, indoor tourist attractions, and other recreation venues to open at 30 percent capacity for vaccinated clients. Staycations have also been allowed to reopen. 
Whilst the country's vaccination rate is still considered low – the national capital region (NCR) has been a lot faster with a 78.9 percent full vaccination rate. This is expected to reach 90 percent by December.
Solaire Resort and Casino is currently open only to members and invited guests.
City of Dreams Manila, Okada Manila, and Resorts World Manila opened to the public, with restrictions from October 16, 2021. 
All other casinos in Metro Manila are currently allowed to reopen with restrictions. 
Thunderbird Resort & Casino is currently open with restrictions 
Casinos in Clark are currently open.
Singapore
Singapore now has around 84 percent of its population fully vaccinated, allowing the country to consider further reopening of its international borders and creating new travel corridors. As of today, Singapore has quarantine-free travel corridors with eight countries, including Germany, Brunei, United States, Canada, Britain, Denmark, France, Italy, Spain and the Netherlands.
Marina Bay Sands is currently open for fully vaccinated persons but with "revised capacities"
Resorts World Sentosa is also currently open for fully vaccinated persons and also has limits on the number of persons per group. 
Nepal
The lockdown in Nepal's Kathmandu Valley which began on April 29 has finally ended as of Wednesday, September 1, though certain restrictions have been kept in place. Under relaxed rules, the seven-day quarantine for all foreigners has been scrapped, and the country has started reissuing visas on arrival to fully-vaccinated international travelers and have also dropped restrictions imposed on the tourism industry since March last year. 
Casinos, which include Casino Royale and Casino Mahjong in Kathmandu have finally been allowed to resume options, but are required to follow health safety protocols. Tiger Palace Resort Bhairahawa, operated by Silver Heritage is also open.
There are approximately 12 casinos in Nepal, all of which are allowed to reopen. 
India
Only three states have licensed land-based (including off-shore casinos) – Goa, Sikkim, and Daman. There are six offshore casinos in Goa, floating in the Mandovi river, whilst other casinos are located inside five-star hotels.
All casinos in Goa have reopened as of September 20, 2021.
All casinos in Sikkim have been allowed to open as of August. 
Sri Lanka
Sri Lanka lifted its six-week national lockdown on Friday October 1 after a decline in Covid-19 cases and deaths. However, despite the end of the lockdown and curfew, people are only allowed out for work or to buy essentials.
Public gatherings are banned while cinemas, schools, and restaurants will still be closed, according to the health ministry. It is understood that casinos are not yet allowed to reopen.
There are five gambling facilities in Sri Lanka, though they are still currently closed. 
Laos
Laos is home to the Savannakhet Savann Vegas casino, Vientiane Dansavanh Nam Ngum casino, and Bokeo Kings Romans casino. The country has been under lockdown since June 19, which has been extended until at least October 15.
Casinos and gaming shops are not permitted to open.  
Cambodia
Cambodia's capital city of Phnom Penh has been recognized as the 'world's most vaccinated capital city' with nearly a 100 percent vaccination rate amongst its two million residents. The speedy vaccination program has put the nation eight months ahead of schedule, and it expects the rest of the country to achieve herd immunity by the end of the year.
NagaWorld reopened on September 15, 2021.
Some casinos in Sihanoukville are open, but each are subject to a different policy on entry requirements.
Some casinos in Poipet are open, working on a limited capacity.  It is understood that some casinos in Kampot are also open.
Casinos in Bavet are understood to be closed for the most part.
Vietnam
Vietnam has locked down a number of its major cities, including Ho Chi Minh City and Hanoi amid a spread of covid-19 cases, with restrictions set to last until September 15. However, the city is considering reopening economic activity afterward, shifting from a "zero Covid-19" strategy to one of living with the virus. Meanwhile, the capital Hanoi is set to extend strict lockdowns in most parts of the city beyond September 6 for another 15 days. Danang eased restrictions from September 5, though it is understood that casinos have not yet been allowed to reopen.
Major operators in Vietnam include Donaco International, Suncity, Vin Group, and Ho Tram Project Company.
Ho Tram Resort Casino is currently open. 
Corona Resort & Casino has reopened as of August 15, 2021.
Hoiana is currently open for domestic tourists.
Aristo Vietnam has been open since May 2020 at reduced capacity. 
Australia
Australia manages its lockdowns and curfews on a state-by-state basis. At the moment, NSW has lifted its lockdown for fully vaccinated persons, and as of Friday 22 October, Victoria has also shed its curfew and stay-at-home restrictions.
Major casino operators in Australia include Star Entertainment, Crown Resorts, SkyCity Entertainment Group and The Treasury Group
All gaming venues in NSW are open, with restrictions.
Gaming venues in Victoria are allowed to open, with restrictions. Crown Melbourne is open currently for non-gaming.
Casinos and clubs in Queensland are also open, with restrictions. 
Western Australia gaming properties are open. 
New Zealand
New Zealand went into lockdown in August due to an outbreak of Covid-19's delta variant, which is believed to be brought in by a traveler from Australia. As a result, the country went into a nationwide lockdown at Alert level 4. On September 7, this was eased to a level two lockdown in all areas with the exception of Auckland, which remains at lockdown level 3.
New Zealand Prime Minister Jacinda Adern on Friday 22nd October set a 90 percent vaccination target for scrapping lockdowns. Around 68 percent of the eligible population is fully vaccinated at the moment.
SkyCity operates four out of six casinos in the country, it operates casinos in Hamilton, Queenstown, and Auckland. There is a casino in Christchurch and another in Dunedin.
All properties are open as of today with restrictions, with the exception of SkyCity Auckland and SkyCity Hamilton. 
Saipan
Imperial Pacific International, which operates the only casino on the island of Saipan, announced a temporary closure from March 17, however, the casino has remained closed since then due to its license being suspended.
Saipan's only casino is closed as of today.
Russia
Despite Russia's coronavirus case numbers now approaching the 8 million mark, the government is reportedly not considering any nationwide lockdowns. That being said, last week, the Moscow City government placed an order for people aged 60 years and over to stay home for four months, and for businesses to have at least 30 percent of people work from home after a surge of new cases and deaths in the country. The new rules are set to take place from October 25, 2021. At the moment, only 32 percent of the country has been fully vaccinated.
Casinos in Russia's Primorye and Siberia zones are required to operate with coronavirus countermeasures, including body temperature checks, the mandatory wearing of masks for all employees and patrons, the installation of hand sanitizers, and various social distancing measures.
All properties are allowed to be open as of today. 
Japan
Japan has no casinos as of today. Instead, its citizens are treated to pachinko parlors throughout the country, which offers a gambling-like entertainment experience.
Despite the country declaring a state of emergency just weeks before the 2020 Tokyo Olympics (currently being held in Tokyo), which continues today, there has been no closure order for pachinko parlors.
All properties are allowed to be open as of today. 
South Korea
South Korea has recently tightened its social distancing rules across the country, warning that its most recent Covid-19 wave could spread further due to the summer holiday season. The heightened alert, however, has not prompted the closure of any casino operations.
All properties are allowed to be open as of today. 
Have you picked up an inaccuracy in our list? Email us at [email protected].