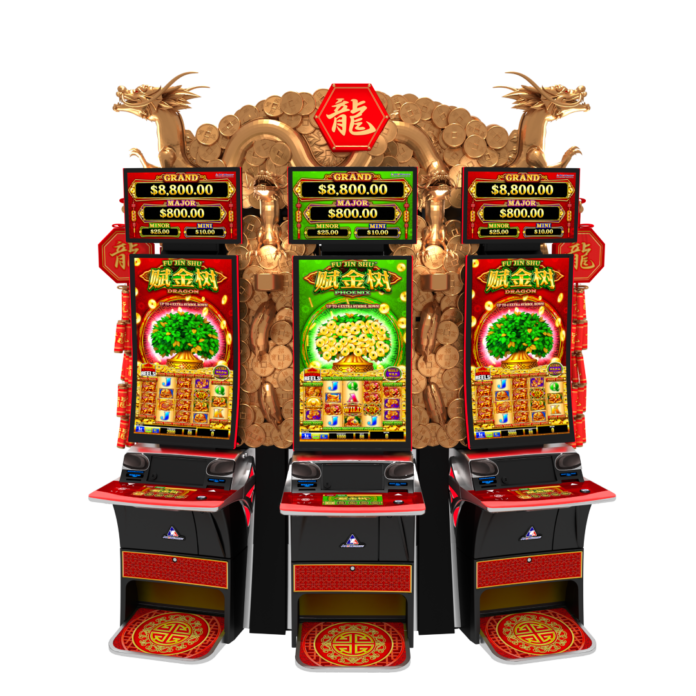 Aruze Gaming once again demonstrates its unique strength for delivering the most innovative products to the global casino gaming industry. 
Aruze has taken a familiar game and reimagined it in a way that creates an entirely new experience. In Go Go Claw Cash Grab, players use a physical claw to attempt to place one of the prize balls in the collection bin. All prize balls are worth the same amount, determined by the Prize Selection at the start of the game. Go Go Claw captures the attention of all who encounter it.
Roll to Win Craps generates a similar reaction, creating a focal point. Improved reporting and a variety of options for dealer tipping now enhance this hybrid Electronic Table Game. The over 60 casinos now operating Roll to Win Craps have benefited from the 2x rolls per hour and dramatic labor savings the table can provide.
Debuting at G2E is the Muso Dragon cabinet, featuring the Fu Jin Shu game series. The Muso Dragon creates a deeply themed bank, with proud dragons and lucky coins perched atop the game screens. Enveloping players in a sense of golden luck and luxury, the Muso Dragon is a perfect showcase for Asian themed titles.
Improved flexibility is also a feature of the Muso Limited. This premium cabinet now allows for more banking options, with the pod configuration utilizing the Reflection pod package to provide added illumination.
A standout series on the Muso Curve-43 Hybrid is X Wheel. Already a stellar performer in initial placements, the four titles on X Wheel are captivating players with two ways to trigger credit symbol collect features.
The Coin Collector series takes a straightforward credit symbol collect feature, but on a 4×5 reel set. This deceptively simple gameplay has already shown to be a new player favorite on the Muso Triple-27 Hybrid cabinet.
At G2E 2021, Aruze solidifies its position as a company that redefines what gaming can be.
For more information, visit booth# 2659 or aruzegaming.com.