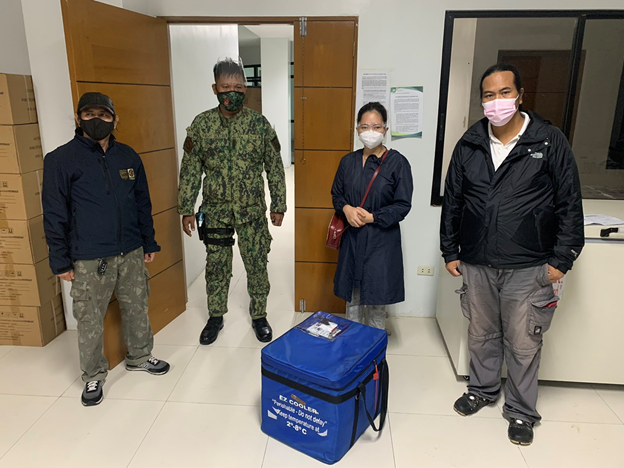 The ICTSI Foundation, in partnership with Bloomberry Resorts, has donated 68,300 doses of the AstraZeneca COVID-19 vaccine from their inventory to 12 Philippine local government units (LGU) across Luzon, the Visayas, and Mindanao.
The vaccine donations were distributed to the cities of Parañaque, Quezon, Dasmariñas, Sta. Rosa, Iloilo, Davao, and Cagayan de Oro; the provinces of Palawan and Ilocos Norte; and the municipalities of Itogon in Benguet, Jose Panganiban in Camarines Norte, and Balayan in Batangas.
"We remain firmly committed to the country's battle against the pandemic. The only way for the economy to recover is to have as many people vaccinated as soon as possible. Now that we are also dealing with the Delta variant, we need to further expedite the country's vaccination efforts, and for our part, we are helping wherever and however we can," said Christian R. Gonzalez, ICTSI executive vice president, and BRC director.
Bloomberry operates the Solaire Resort & Casino in Manila.
Last year, ICTSI led the private sector initiative to procure an initial three million doses of the Oxford-AstraZeneca COVID-19 vaccine via an advance market commitment and donated half of the 300,000 doses it purchased to the Philippine Government. The vaccine donations to the LGUs are separate and are part of the Company's own allocation.
"On behalf of the people of Iloilo City, I would like to thank Mr. Ricky Razon and ICTSI for the donation of 5,000 doses of AstraZeneca which we received today. Madamu guid nga salamat sa ngalan sang pumuluyo sang ciudad sang Iloilo," said Iloilo Mayor Jerry Treñas after the city received the AstraZeneca doses last 28 July.
The vaccine donations for Dasmariñas and Parañaque were also turned over in July.
ICTSI also assisted the Philippine Government in the procurement of more than 20 million doses of the Moderna COVID-19 vaccine, the first batch of which arrived in the country last 27 June. The Company committed to fund and oversee the international logistics for the order.
Another batch from the Moderna vaccine order was delivered to the country on Sunday, August 8, with some 224,400 doses going to the government.