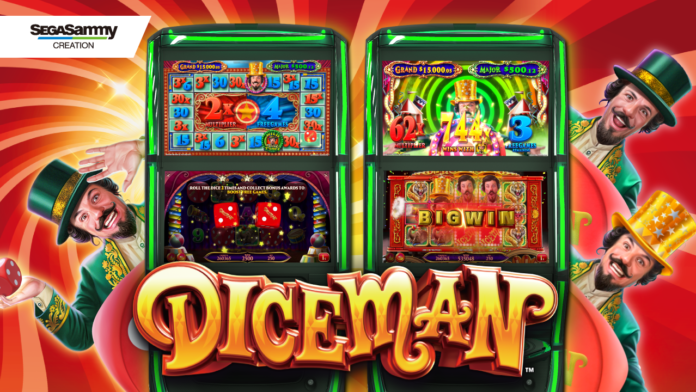 SEGA SAMMY CREATION INC. is excited to announce that our latest slot game "DICEMAN" with a 2-level Progressive Jackpot has been released in the Asian market with the exception of Macau.
DICEMAN brings an unforgettable winning experience with two unique dice rolling features. The first "Dice Multiplier Feature" provides the chance to win up to 12x on the Multiplier. When the Wild symbol substitutes in a win, this feature is randomly triggered. Players roll 2 dice, any wins with the Wild symbol will be multiplied by the outcome of the dice.
The second "Dice Circus Feature" entertains players with the gimmick to determine the condition of Free games played after the feature by using dice and a game board as with well-known classic board games. Each space of the board contains one or more bonus awards such as number of free spins, multipliers and more. Players can roll 2 dice twice to proceed the number of spaces indicated by dice and collect the bonus on the space. This feature awards up to 64 free spins or X62 multiplier as the condition of Free games. If players hit X12 multiplier in the Dice Multiplier Feature during this session and X62 multiplier is the condition, wins will be "multiplied" by x744! The combined effect of these dice rolling features generates a CRAZY WIN!!
 Our creepy-cute "DICEMAN" character attracts the player's attention and brings an unforgettable experience for players who will love this smash hit!