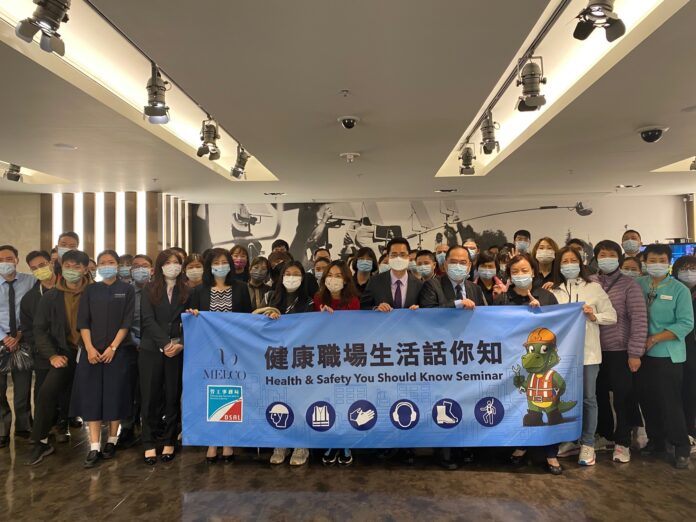 In alignment with Labour Affairs Bureau policy, Melco promotes Occupational Safety and Health (OSH) by rolling out diversified initiatives throughout the year to continuously enhance colleague awareness and OSH knowledge. 
In the past year, Melco's comprehensive OSH initiatives have been warmly received by colleagues across City of Dreams, Studio City, Altira Macau and Mocha Clubs. Programs have included:
The '114' Get up and Stretch Promotion
Physical Fitness Test Competition
OSH Mascot Design Competition
OSH and Smoke Free Lifestyle Roadshows
'Health & Safety You Should Know' Seminar
Safety Quiz Competitions
To wrap up its year-round OSH campaign, the Company further hosted the 'Melco OSH Workplace Flash Mob Project 2021' earlier this month.
Mr. Toby Ryan, Vice President, Security Operations of Melco welcomed honorable guests including Mr. Wong Chi Hong, Director of Labour Affairs Bureau; Mr. Chan Chon U, Deputy Director of Labour Affairs Bureau; Ms. Lam Iok Cheong, Department Head of Occupational Safety and Health of Labour Affairs Bureau and Mr. Chui Ka Shing, Promotion and Training Division – Acting Head of Division of Labour Affairs Bureau to the event. 
Mr. Wong Chi Hong, Director of Labour Affairs Bureau, said, "Since the 'Health & Safety You Should Know' roadshow was launched in 2017, Melco has been strongly supportive of the initiative, working collaboratively with the Bureau on many occasions and demonstrating that work safety and health of colleagues continues to be an integral part of the Company's core values.
We hope to see further companies from various industries develop easy, fun and impressive projects to promote OSH awareness and knowledge while strengthening colleagues' sense of belonging in the workplace."
Mr. David Sisk, Chief Operating Officer – Macau Resorts, Melco, said, "Melco's OSH Policy highlights the Company's pledge to continuously improve OSH performance and the maintenance of safety and health standards across our resorts.
We are grateful for the ongoing support from the Labour Affairs Bureau towards the development of a positive safety culture in the workplace. Melco's awareness-raising activities provide colleagues with practical information on ways to handle work stress and prevent work fatigue as well as offering advice on shift work and health.
Melco will continue to secure a safe and healthy workplace for all colleagues through our interactive and engaging activities."