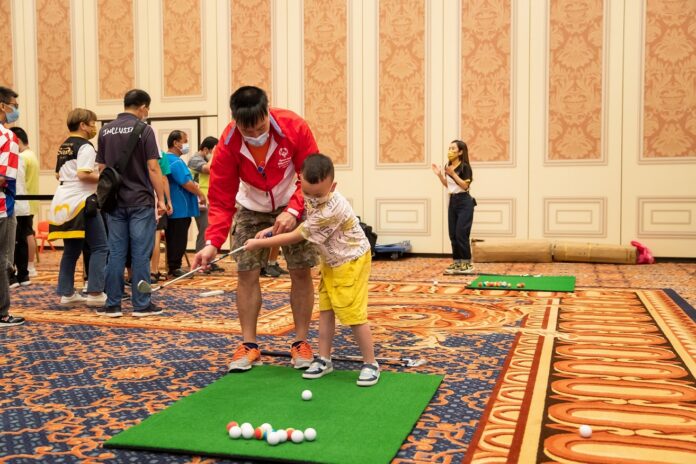 Sands Cares Ambassadors celebrated Venetian's 15th Anniversary with Macau Special Olympics and other NGOs, on Sunday.
Members of four NGOs, including Macau Special Olympics (MSO), and their families rode in gondolas, played games and enjoyed other activities Sunday with Sands Cares Ambassadors in celebration of The Venetian® Macau's 15th anniversary. Participants also received health checks as part of the MSO Healthy Athletes programme, with Sands Cares Ambassadors lending a helping hand.
The fun parent-child event, The Venetian Macau 15th Anniversary Presents: Sands Cares Healthcare Day, was organised by Sands China and MSO, and co-organised by Macau Medical and Health Federation, in promotion of the health of people with intellectual disabilities.
Dr. Wilfred Wong, president of Sands China, said: "Sands China is very pleased to share the joy of The Venetian's 15th anniversary with Macau Special Olympics, with whom we have a long and successful history of working together. Our thanks go to our Sands Cares Ambassadors for always sharing the company's goodwill with our community partners, and to Macau Special Olympics for their collaboration and for the invaluable services they provide to people with disabilities and their families."
On the same day, Sands China Ltd. made a MOP 248,000 donation to MSO in support of its Healthy Athletes programme. Co-organised by Sands China and MSO, this free programme aims to improve the health of people with intellectual disabilities and to reduce relevant parenting stress. Having helped identify health issues for 5,500 people with intellectual disabilities, with 600 children and young adults with intellectual disabilities having enjoyed follow-up treatments fully funded by the programme to date, the Healthy Athletes programme also offers useful advice for caregivers of its participants.
Hetzer Siu, national director of Macau Special Olympics, said: "It is a pleasure to be invited to this valuable event to celebrate the 15th anniversary of The Venetian Macau. MSO and Sands China have collaborated for over 15 years, and it is now the 9th year since the launch of our Healthy Athletes Programme. Through this programme, Sands Cares Ambassadors and our members have developed a great bond, which gives the local community a better understanding of the challenges faced by families with intellectual disabilities individuals. We are looking forward to continuing to work with Sands China to benefit even more people in need."