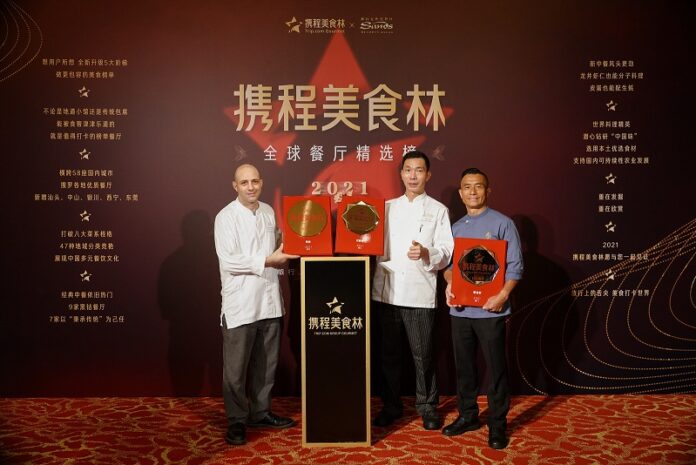 [Press Release]
Sands Resorts Macao restaurants have been recognised by Trip.com Group Gourmet 2021 Top Global Restaurant List. At an awards ceremony at The Londoner Macao's Londoner Theatre on June 25, 2021, organised by Sands China Ltd. and Trip.com Group, with support from Macao Government Tourism Office, Sands Resorts Macao restaurants received the following commendations:
Diamond: La Chine (The Parisian Macao), Zi Yat Heen (Four Seasons Hotel Macao)
Platinum: The Manor (The St. Regis Macao)
Gold: The Golden Peacock (The Venetian® Macao), Chiado (The Londoner Macao), Lotus Palace (The Parisian Macao)
Silver: North, Red Dragon Noodles and Imperial House Dim Sum (The Venetian Macao), Southern Kitchen (The Londoner Macao), Market Bistro (The Parisian Macao), The St. Regis Bar (The St. Regis Macao)
The Trip.com Group Gourmet 2021 Top Global Restaurant List was introduced in 2016 to provide Chinese travellers with international food and restaurant recommendations, as well as a convenient online booking platform. For 2021 the listings have been upgraded and restaurants evaluated in five categories: Black Diamond, Diamond, Platinum, Gold, and Silver. This year over 6,200 restaurants in 58 cities in China have been awarded.
La Chine, The Parisian Macao
The French-inspired Chinese restaurant on the 6th floor of The Parisian Macao's Eiffel Tower offers superb cuisine. Must-try specialities include poached star grouper in prawn broth with crispy rice; smoked baby pigeon in lemongrass; wok-fried prawn with kale, shallot and olives; and hot and sour grouper fillet with pickled vegetables.
Zi Yat Heen, Four Seasons Hotel Macao
A Michelin-starred restaurant since 2009, Zi Yat Heen offers exquisite Cantonese cuisine, a dim sum menu and selection of high-end Chinese specialty teas in a relaxed yet elegant atmosphere. Signature dishes include a wide range of bird's nest and abalone dishes; superb barbeque including suckling pig, roasted goose, pork with honey; marinated chicken; sliced abalone and red jellyfish; and crispy pigeon.
The Manor, The St. Regis Macao
Under renowned Chef Michele Dell'Aquila, The Manor presents an exquisite dining experience with an emphasis on the finest, sustainably sourced ingredients sourced from all over the world, featuring grill-inspired dishes and accented with local flavours. The perfect venue for every occasion, The Manor signature dishes include Glacier 51 toothfish with black ink, toasted chouriço migas with a Champagne emulsion; aged Miyazaki Wagyu beef striploin served with potato mille-feuille, matsutake mushroom and black truffle.
Presenting a world of diverse cuisine prepared by some of the most innovative and skilled chefs, Sands Resorts Macao offers more than 150 dining options from Macanese favourites to award-winning cuisine and more. For more information, please visit: https://en.sandsresortsmacao.com/restaurants.html.