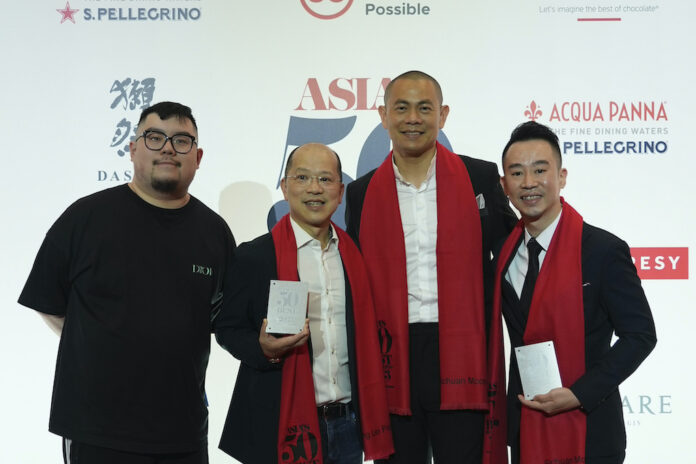 Asia's 50 Best Restaurants 2023 revealed its latest list of the 50 most influential restaurants in Asia at its awards ceremony in Singapore. Once again, Wynn is the only integrated resort operator in Macau to rank on the coveted list, as two Chinese restaurants at Wynn Palace – Sichuan Moon and Wing Lei Palace earn recognition from Asia's 50 Best this year.
Earning a spot on the list for a fifth consecutive year, Wing Lei Palace received the "Best Restaurant in Macau" honor for the first time this year, and elevated its ranking to #39. Sichuan Moon has also returned to the Asia's 50 Best list, ranking #43 this year. Prior to the awards ceremony, Asia's 50 Best announced that Golden Flower, the Chinese restaurant at Wynn Macau has made the 51-100 extended list for a second consecutive year.
Celebrating the success of this year's Asia's 50 Best winners, Wynn is hosting a cocktail event on March 29 in Singapore after the awards ceremony. Head chefs from three award-winning Wynn restaurants – Wing Lei Palace Executive Chef Tam Kwok Fung, Sichuan Moon Culinary Director André Chiang and Executive Chef Wilson Fam as well as Golden Flower Executive Chef Henry Zhang Zhi Cheng – are uniting to create canapés inspired by their signature dishes for the event.
Their delicious delicacies will showcase the diversity of the dining experience at Wynn, giving culinary leaders and media from around the world an opportunity to connect after the event.
Kristoffer Luczak, Executive Vice President of Food & Beverage for Wynn Macau, Limited said: "We are very pleased that our Chinese restaurants have once again been recognized on the Asia's 50 Best Restaurants list. The rankings are a tremendous encouragement for our Wynn culinary teams who consistently provide services of the highest standard each and every day."
"These accolades especially recognize the efforts Wynn has made toward promoting the culture of Chinese cuisine and showcasing Chinese culinary on the global stage, further building on Macau's international reputation as a 'Creative City of Gastronomy'."