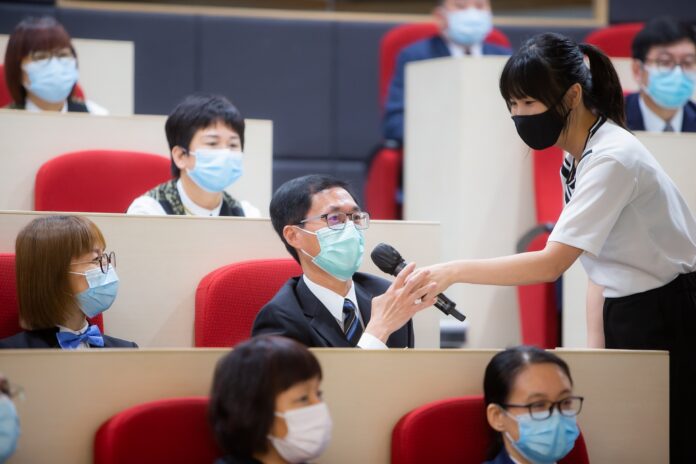 Sands China Ltd. held a responsible gaming sharing session April 23 for its team members, on the theme of providing support services to problem gamblers and their families.
Presented by the Sheng Kung Hui Macau Social Services Coordination Office, the event at The Venetian® Macao's Adelson Advanced Education Centre was aimed at enhancing the responsible gaming knowledge of 62 Sands China team members, 30 of whom are Responsible Gaming Ambassadors. The unit in-charge of Sheng Kung Hui's 24-Hour Gambling Counselling Hotline shared examples of gambling disorder cases with the team members during the sharing session to strengthen their responsible gaming knowledge.
As Responsible Gaming Ambassadors, team members undergo training to gain enhanced knowledge of problem gambling, and awareness of the importance of responsible gaming – in order to provide appropriate response and assistance to patrons exhibiting signs of problem gambling. Sands China Ltd. has provided the advanced training since 2013, as a supplement to the company-wide responsible gaming training delivered to all of Sands China's more than 28,000 team members. The elite programme is the only one in the city done in coordination with the University of Nevada, Las Vegas (UNLV). The company has trained around 650 Responsible Gaming Ambassadors to date.
"Sands China is pleased to have hosted this responsible gaming workshop for our team members, in support of the Macao government's 'Lost Control, Lose Family' responsible gaming campaign," said Andy Kobel, senior vice president of table games and gaming optimisation for Sands China Ltd. "Our thanks go to the Sheng Kung Hui Macau Social Services Coordination Office for their continuous support in helping us develop the knowledge and skills of our Responsible Gaming Ambassadors."
Lee Kwok Hoo, services director of the Sheng Kung Hui Macau Social Services Coordination Office, said: "We are grateful to have Sands China as a long-time supporter of our programmes and we were pleased to offer this workshop for their team members. It helped them learn more about the needs of people with gambling disorder and screening methods for gambling disorder via a case study. It also introduced them to our services related to gambling disorder and family support."
Sands China remains committed to the well-being of its guests and recognises the importance of responsible gaming to the Macao community. Sands China was the first gaming operator in Macao to launch a self-exclusion programme in 2004, and was a pioneer in including responsible gaming training in its company-wide team member orientation programme. Sands China established its comprehensive responsible gaming programme in 2007, with the goals of contributing to the continuous development of the Macao community, bearing corporate responsibility in addressing social issues and developing an environment and a culture of responsible gaming in Macao.