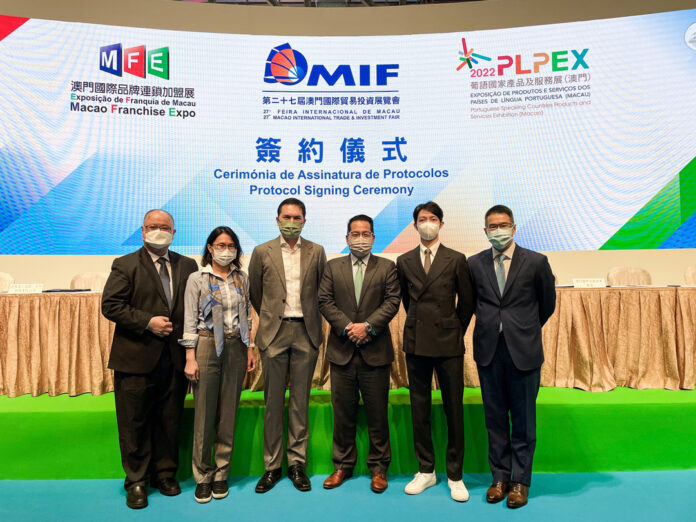 MGM inked procurement contracts at the sidelines of MIF with two local SMEs to leverage their technological expertise to develop a set of advanced digital systems implemented in MGM's premises.
The collaborations' objective is to not only accelerate the development of smart tourism in Macau but also provide more growth opportunities for local SMEs through increased uptake of digital solutions in the tourism industry, an MGM release read.
The contract signing ceremony was held earlier at the 27th Macao International Trade and Investment Fair (MIF), during which Gary Chung, Vice President of Supply Chain Services of MGM inked procurement contracts with the representatives of the two SMEs, namely DigitalBay Limited (DigitalBay) and TECHCOMM Technical Consultation Limited (TECHCOMM). 
The two SMEs will develop various smart solutions for MGM, expected to reach an aggregate procurement amount of MOP 1 million.
DigitalBay, a member of the Macao Young Entrepreneur Incubation Centre (MYEIC), has forged a close partnership with MGM through the "MGM x MYEIC Young Entrepreneur Nurturing Program". 
The latest collaboration marks the 6th joint project of DigitalBay and MGM since their first in 2021 – in which DigitalBay will tailor two digitalized systems for MGM to further optimize its tourism service quality.
The "event management system" is one among them, which will help team members manage and organize banquets more efficiently. DigitalBay is a homegrown SME, also a rapidly growing digital marketing service provider in Macau, with its service quality well received by industries.
Chris Wong, Founder and CEO of DigitalBay, said, "The partnership with MGM has increased the confidence of other prospective clients on us and thus greatly strengthened our capability to expand customer base. This cooperation with MGM leads to our maiden event management system, which also helps unlock new business opportunities for us. Besides, MGM has hosted SME sharing sessions for us to learn business know-how, helping local SMEs grow and thrive."
On the same day, MGM and TECHCOMM also reached their first partnership – in which TECHCOMM will create and implement a new eHost Kiosk system in MGM's digital self-service counters, which can offer guests a more personalized and efficient guest information platform. TECHCOMM is also a local SME, with its business centered on consulting services and technical support. Its business scope covers Macau, Southeast Asia and South Asia.
Gavin Lam, Managing Director (Business Development) of TECHCOMM, said, "This marks the first partnership between us and MGM. We both share common visions in technological innovation which make our cooperation run smoothly. Together, we aspire to bring an enhanced user experience to MGM's guests and help advance the tourism development in Macau."