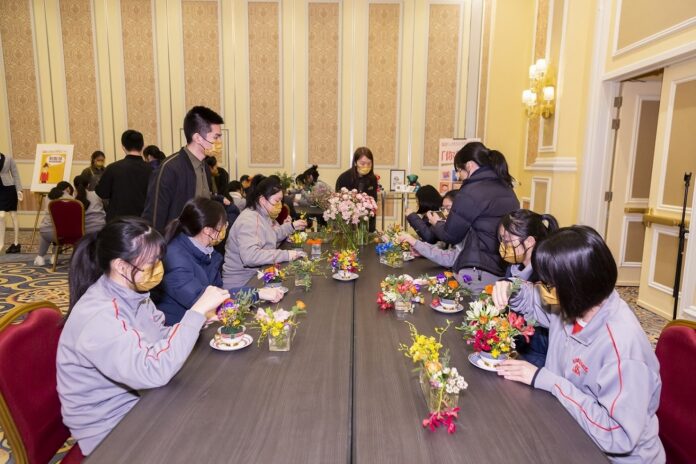 Around 360 participants were part of Sands China's recent career event titled "GO! Explore the Infinity of Sands China."
Six sessions were offered at The Venetian Macao Feb. 22-24 aimed at strengthening the young generation's career planning knowledge and kindle interest in the integrated resort industry.
Each session presented a half-day immersive demonstration in a real-life setting along with fun and interactive activities and gave an overview of available career paths with a presentation by participants of Sands China's Fast Track career development programme.
Wen Hongyan, Sands China's senior vice president of human resources, said: "The youth of today are our hope for the future and it is our wish that this activity inspires Macao's young people's interest in integrated resorts and in the tourism industry.
This experience day addresses our local youths' need for accelerated growth and offers them options to explore when selecting majors and planning their ideal careers. We are very pleased to help prepare Macao's young generation for their professional careers ahead and as a contribution to Macao's development into a world centre of tourism and leisure."
The experience day welcomed participants from diverse backgrounds, and exclusive sessions were open for students who came from Santa Rosa de Lima English Secondary School, Sacred Heart Canossian College, and the department of integrated resort and tourism management at the University of Macau.
Their activities included in-depth introductions and immersive experiences with eight core Sands China departments: front office, concierge, e-commerce, facilities, food and beverage, front office, recreation, and floral operations.
The participants were able to understand more about luxury guest services in a hotel setting, and the variety of experiences allowed the youth to explore their interests and begin preparing themselves to seize job opportunities in careers that suit their preferences.
Sands China team members also helped equip participants with useful job-hunting skills, through workshops such as mock interviews, CV writing, and grooming and presentation skills.
As the largest integrated resort operator in Macao, Sands China has been committed to nurturing local talent. Initiatives like GO! Explore the Infinity of Sands China are part of the company's ongoing efforts to support the Macao government's policy of "building Macao with talent." By nurturing versatile talent through its various diversified talent development programmes, the company is committed to continue making contributions to the city's development as a world center of tourism and leisure.