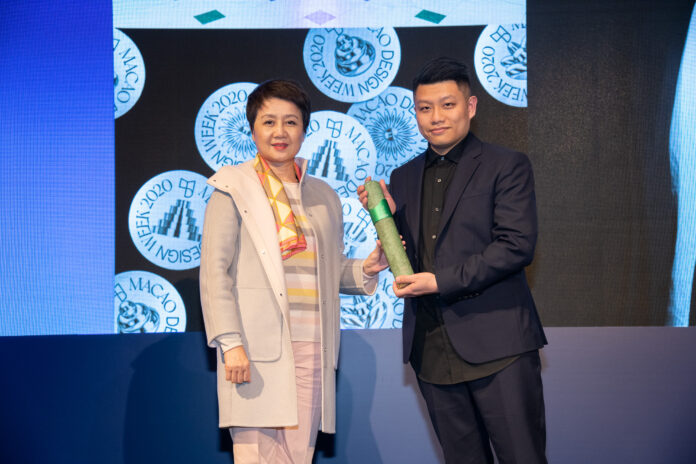 The "Macau Design Awards 2021" award ceremony, title sponsored by SJM Resorts, S.A. and hosted by the Macau Designers Association, was held yesterday at Grand Lisboa Palace Resort Macau to recognise the excellence of local and international design talents.
To better foster Macau's cultural and creative industries, SJM will launch a collaboration with the winner of the "SJM New Talent Award" to develop further original design works.
The award ceremony was attended by representatives from the Macau Government, SJM managing directors, design professionals, as well as local creative teachers and students invited by SJM. The recently established "SJM New Talent Award" was added to this year's competition and saw Ms. Angela Leong, Managing Director of the Board of Directors of SJM, present the award to the winner Au Chon Hin, Creative Director of Untitled Macao, on behalf of the company.
Ms. Daisy Ho, Chairman of the Board of Directors of SJM, said, "SJM is to committed to the development of cultural and creative industries in Macau and to the strengthening of regional cooperation. As the title sponsor of the Macau Design Awards 2021 and the newly established 'SJM New Talent Award', we aim to provide an exchange platform for the design industry, to recognise creative achievements and to cultivate talents. We will continue to work closely with Macau's talented designers to deepen cross-sector integration of 'tourism + culture', while bringing more business opportunities to local SMEs."
In line to foster the growth of Macau's SMEs, SJM has carefully commissioned the "SJM New Talent Award" trophy for its environmental protection benefits. The 100 percent sustainable and biodegradable trophy is made from recycled tea fibre and extracts combined with environmentally friendly and innovative materials that have been developed by a local company. The trophy not only uniquely showcases the continued growth of young local talents, but also demonstrates Macau's sustainability efforts and aesthetics in the Greater Bay Area as well as SJM's cooperation and support of local SMEs.
The "Macau Design Awards 2021 – Winning Works Exhibition" held at the Catwalk Garden on Level 1 of Grand Lisboa Palace's The Bazar will be on display until March 31, providing audiences with a chance to appreciate outstanding designs from all over the world. The digital exhibition with a mirrored display from the ceiling features 120 artworks from a talented group of global designers, and takes audiences on a wondrous journey of contemporary art.
The Bazar, themed around an elegant fantasy garden, is home to more than 100 shops featuring some of the world's most beloved and desired brands. Guests are invited to enjoy this wonderful shopping atmosphere of art and culture where starting from March, limited-time shopping discounts will be launched.