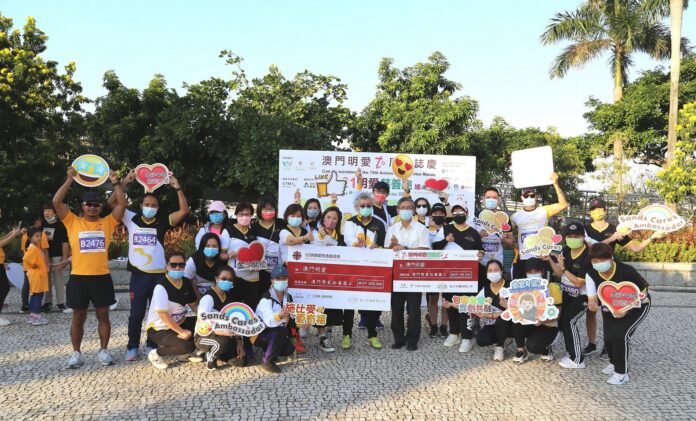 Sands China recently donated MOP300,000 ($37,400) to Caritas Macau, in support of two annual Caritas Macau events, the 52nd Charity Bazaar and the 2021 Charity Run, marking Sands China's 18th consecutive year donating to the local NGO.
At a cheque presentation ceremony Nov. 14 at Zona De Lazer Da Marginal Da Taipa, Sam Chongnin, vice president of corporate communications and community affairs for Venetian Macau Limited, presented a ceremonial cheque for MOP 200,000 to support Caritas Macau's 52nd Charity Bazaar and another for MOP 100,000 to support the 2021 Charity Run to Caritas Macau Secretary-General Paul Pun Chi Meng.
Since 2004, Sands China has contributed nearly MOP5 million to Caritas Macau. The funds help support Caritas Macau's operational expenses and its efforts to develop and implement social services in the community.
In light of Macao's COVID-19 control and prevention measures, this year's Charity Run was held as a virtual run and the bazaar was held in the form of several mini-bazaars at various locations, in order to prevent large gatherings of people in a centralised location.
For the virtual run, participants complete their runs at their own chosen locations within a specified period of time and then submit photos from their runs, such as from running apps or treadmill screens.
Around 50 Sands Cares Ambassadors and family members showed their support by attending the cheque presentation ceremony and participating in the virtual charity run, which is raising funds this year to build a small elderly home.
Besides its corporate donation, Sands China is raising additional funds for Caritas by organising a fundraising campaign at its properties, with donation boxes available at back-of-house team member areas Nov. 15-Dec. 15.
Sands China Ltd. President Dr. Wilfred Wong said: "Over the last seven decades, Caritas Macau has long spread its kindness and provided essential services to help care for some of the most vulnerable members of our local community. Sands China is very pleased to support Caritas Macau again this year, as this invaluable charity continues to provide care and services to the Macao community, and we send our heartfelt congratulations to Caritas Macau as they commemorate their 70th anniversary in 2021."
Sands China's support to charitable organisations like Caritas Macau is one of the company's initiatives under Sands Cares, the global corporate citizenship programme of parent company Las Vegas Sands Corp.