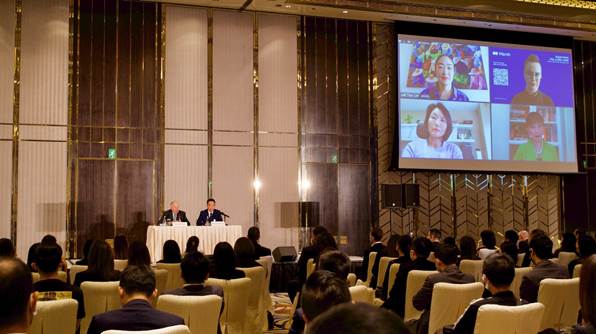 Melco Resorts & Entertainment announces the launch of the 'Melco Mentoring and Networking Group' as part of its commitment to Whole Person Development for colleagues.
The 'Melco Mentoring and Networking Group' comprises colleagues united by a common set of goals, namely mentoring, professional development, and networking. The Company has established a dedicated committee to organize a series of events over the coming months, including internal and external speaker workshops, mentoring programs, and networking activities. The initiative's objective is to promote and encourage connectivity as well as assisting the establishment of long-term relationships and the cultivation of a community within Melco.
Yesterday, the initiative's first event, a virtual discussion based on this year's International Women's Day theme of #choosetochallenge, took place at Studio City. Speakers from Melco including Ms. Stephanie Cheung, Executive Vice President, and Chief Legal Officer; Mr. David Sisk, Chief Operating Officer of Macau Resorts and Mr. Raymond Lo, Senior Vice President, General Manager of Altira Macau & Mocha were joined by external panelists Dr. Magda Chelly, Defensive and Offensive Security Leader and Ms. Tina Jebely, Owner and Founder of Roya Agency for Legal Talent for the event. Ms. Akiko Takahashi, Executive Vice President and Chief of Staff to Chairman & CEO of Melco moderated the event which discussed ways to challenge oneself for excelling in the workplace and how one can assist colleagues with the same.
Ms. Akiko Takahashi, Executive Vice President and Chief of Staff to Chairman & CEO of Melco, said, "In our role as an equal opportunity employer and active promoter of  Whole Person Development philosophy, the newly launched 'Melco Mentoring and Networking Group' seeks the participation of all colleagues to learn more about unique perspectives and challenges faced in their careers and work life. We are excited to establish the 'Melco Mentoring and Networking Group' to support our whole person development goals for colleagues, because lifelong learning and nurturing local talent are essential to our success."
Since the Company's inception, Melco has focused on initiatives for women and whole person development. Recently, to address and raise awareness of mental wellness issues in the community, Melco announced the collaborative Feel Better – Women's Personal Development and Support Program with the Women's General Association of Macau. Earlier on, the Melco Women's Forum invited a panel of inspirational and influential female guests to speak in Macau. Further Company women's initiatives include being the first integrated resort operator to set up lactation rooms across all major properties to support working mothers, and the promotion of breast cancer awareness in partnership with local health organizations and associations to benefit women in Macau.