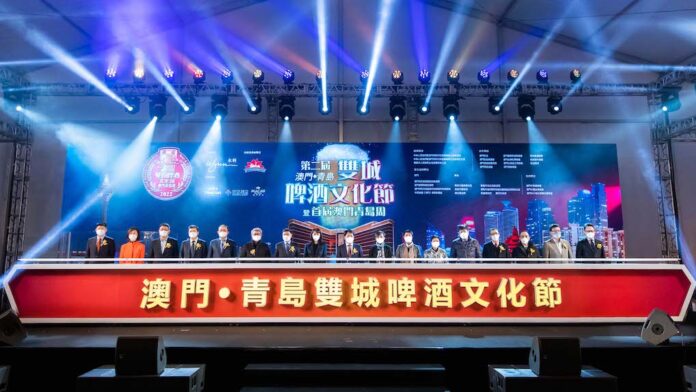 On the evening of 15 December, Wynn Palace Cotai hosted an opening ceremony for "The 2nd Macau-Qingdao Beer & Cultural Festival and the 1st Macau- Qingdao Week" which is being held at the same time as "The 1st Macau-Qingdao Week" Exchange Session for Qingdao-Macau and Portuguese-speaking Countries.
The aim of these events is to forge strategic cultural, tourism, economic and trade ties between Qingdao, Macau and Portuguese-speaking countries. "The 2nd Macau-Qingdao Beer & Cultural Festival and the 1st Macau-Qingdao Week" is hosted by Wynn Resorts (Macau) S.A. and jointly organized and overseen by the Macau Leisure Tourism Services Innovation Association, and co-organized by Tsingtao Brewery Group Company Limited, Qingdao Huangdao Development (Group) Company Limited and Macau Beer Company Limited.
This year's Beer & Cultural Festival will be held on the lawn adjacent to the Wynn Palace South Entrance for 23 days from December 9 to 31. The event is themed around Tsingtao Beer, Macau Beer and Portuguese Beer, with a variety of food and entertainment as well as tourism and cultural experiences.
Throughout the "Macau-Qingdao Week", visitors and local residents will have the opportunity to experience the best of the two cities by discovering Qingdao specialty products at the "Portuguese-speaking Countries Product Exhibition Week" area and enjoying Macau's "Mak Mak MFun Carnival".
To enliven the atmosphere even more, Wynn will be showcasing a large-scale light art installation during the spectacular "Light up Macao 2022" event organized by the Macau Government Tourism Office (MGTO). Together, all of these events are the perfect way to toast the arrival of a festive winter season!