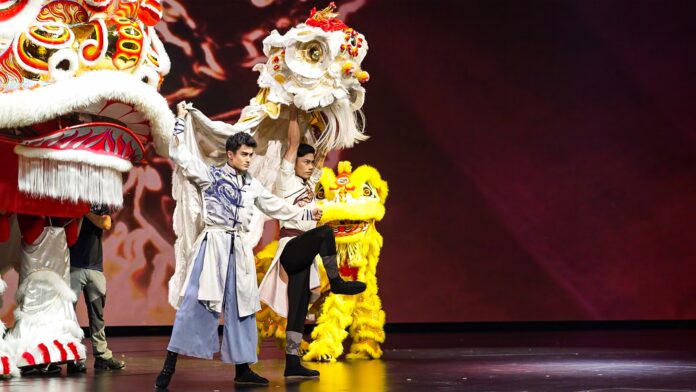 MGM has joined hands with the Guangzhou Song and Dance Theatre to present the "MGM Awakening Lion," an exclusive and tailor-made version of the award-winning Chinese ethnic dance drama, "Awakening Lion".
With its premiere in July, this is the first residency show of the Guangzhou Song and Dance Theatre outside of Mainland China. "MGM Awakening Lion" was created with the objective to showcase traditional dance drama with innovation, telling the great stories of the Chinese people with an internationalized and contemporary backdrop.
Pansy Ho, Co-Chairperson and Executive Director of MGM China Holdings Limited, said online at the launch event, "As we embark on to the bright new journey of the 14th Five-Year Plan, MGM presents this large-scale ethnic dance drama 'MGM Awakening Lion', where lion dance, a symbol of Chinese national heritage and festive culture, stands as the theme of the show. Curated for tourists of the new generation, 'MGM Awakening Lion' sets a new milestone for MGM, as it is the very first project of the 'MGM Lion IP (Intellectual Property)', a spectrum of tourism products in multiple categories. It is a brand-new style of experiencing Macau with a wide range of events created with the lion persona as the core, and the passing-on of the Lingnan heritage as the main drive. The residency show, as well as other 'MGM Lion IP' products, share the common goal of building Macau into 'a base for exchange and cooperation with Chinese culture as the mainstream and the coexistence of different cultures'. It aims to deepen the exchanges of cultural tourism in the Greater Bay Area (GBA) and promote its high-quality development in humanity and culture."
"MGM Awakening Lion" is re-arranged and tailor-made according to the cutting-edge technology and state-of-the art equipment of the MGM Theater.  The 70-minute drama is an exemplar of cultural tourism catered to the new generation of tourists.  Retaining the plot and the strongest Lingnan cultural characteristics from the original dance drama, the pace of the drama has been enhanced, becoming more upbeat. The performing venue – MGM Theater, dubbed as Asia's most advanced dynamic theater with top-of-the-line black box theater setup, is going to truly elevate the entertainment experience and allure of the traditional dance drama. Empowered by the world's largest permanent indoor LED screen which blurs the line between virtual and reality, the drama fuses the venue and the performance together to deliver a one-of-a-kind and visual-stimulating extravaganza to the audience.