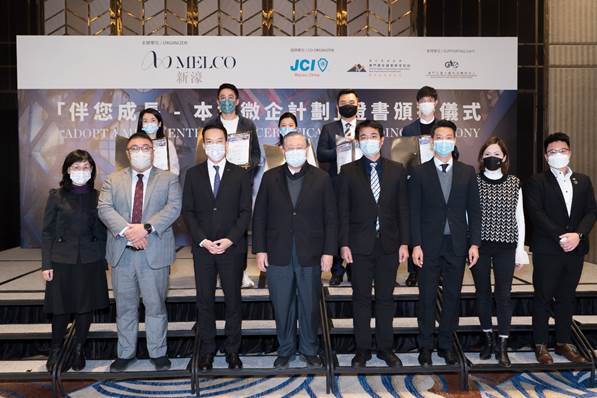 Melco Resorts & Entertainment hosted the Adopt a Micro-Enterprise Certificate Awarding Ceremony at Studio City on December 29, 2021. Six selected micro-enterprises received their certificates at the event following the successful completion of the six-month program comprising tailored experience tours and workshops.
Co-organized with Junior Chamber International (JCI) Macao, China, Macao Young Entrepreneur Incubation Centre (MYEIC) and supported by Macau Productivity and Technology Transfer Center (CPTTM), Melco launched its Adopt a Micro-Enterprise mentorship and consulting program to support local micro-enterprises and youth entrepreneurs.
The program aims to provide an effective platform to contribute knowledge and skillsets by leveraging expertise from Melco colleagues from various disciplines and professions.
The event's officiating guests Dr. Shuen Ka Hung, Director-General of CPTTM; Mr. Carlos Lam, CEO of MYEIC; Mr. Ernest Leong, 2021 National President of JCI Macao, China; and guest speaker Mr. Grant Lou, SO-IDEA Convention & Exhibition Consulting Co. Ltd, attended the ceremony together with Melco executives Mr. Raymond Lo, Senior Vice President, Property General Manager of Altira Macau & Mocha; and Ms. Monica Ng, Executive Director of Supply Chain.
Around 60 SME representatives and youth entrepreneurs were also invited to the event and participated in the Melco Sustainability & Ethic Workshop to enhance business ethical knowledge and insight into sustainable development.
Ms. Akiko Takahashi, Executive Vice President and Chief of Staff to Chairman & CEO of Melco Resorts & Entertainment, said, "Melco remains fully committed to supporting the growth of local youth entrepreneurs, helping them identify potential opportunities and achieve businesses success.
We are pleased to partner with JCI Macao, China, MYEIC and CPTTM to help develop knowledge of sustainable development for Macau's youth entrepreneurs, and ultimately contribute to the diversification of the local economy."