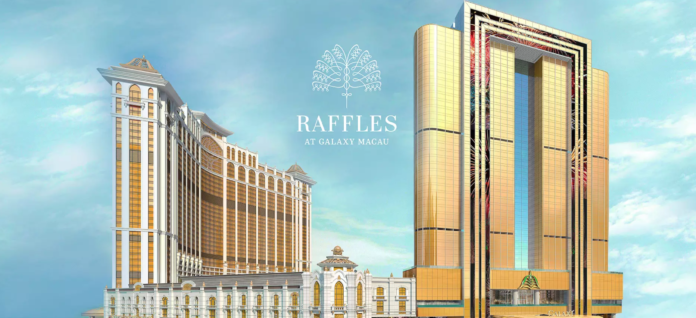 Luxury hotel operator Raffles Hotels & Resorts has signaled that it is on track to Raffles Hotels & Resorts its newest Macau property at Galaxy Macau before the end of 2021. 
"With newly appointed CEO Stephen Alden at the helm, Raffles Hotels & Resorts embarks on an exciting new era…. Later this year, Raffles will open a second hotel in Dubai (The Palm), along with Bahrain, Udaipur, and Macau. "
Raffles at Galaxy Macau will feature 450 suites, whose design is said to draw inspiration from a modern palazzo.
The suites will feature curated artworks, and some will feature private pools and gardens.
It will also include on-site entertainment and a specialty restaurant helmed by a multi-Michelin-starred Japanese chef.
Another key feature is a "glass air bridge that connects the two towers on every floor."
Raffles' opening is part of Galaxy Entertainment Group's Phase 3 Cotai expansion, which is expected to launch in stages throughout the remainder of 2021.
Analysts have repeatedly touted the importance of the premium mass segment to drive performance over the short to medium term.
The same can't be said for the VIP market, which initially had been expected to lead the recovery. However, liquidity issues among junket operators, coupled with China's continuing focus on capital controls may hinder growth until at least 2023.