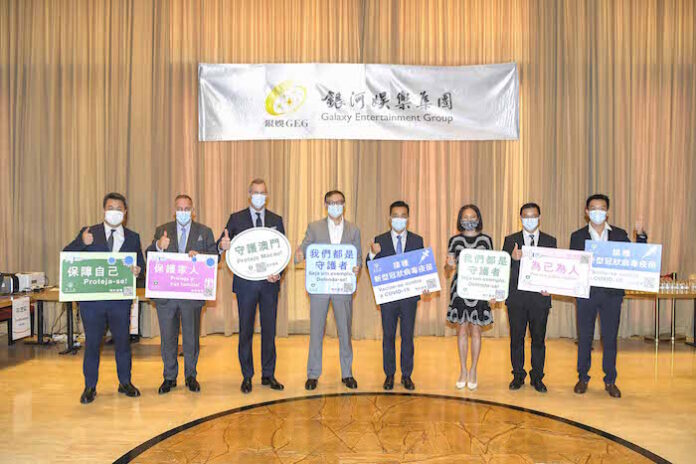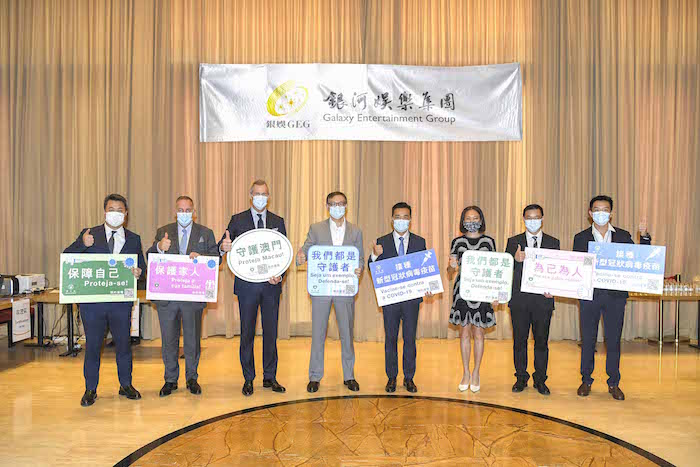 In response to the Macau SAR Government's call for the public to get vaccinated against COVID-19 and to help Macau achieve herd immunity, Galaxy Entertainment Group invited the Health Bureau to set up a vaccination point at Galaxy Macau.
The three-day vaccine drive, which started Thursday, follows on the heels of two COVID-19 Vaccine Information Seminars that GEG recently held for its team members. Dr. Lo Iek Long, Director of the Health Bureau, and Dr. Liang Sung Wen, Consultant of the Health Bureau, visited the vaccination point today to show their support while Mr. Francis Lui, Vice Chairman of GEG, came forward to be the first executive to get vaccinated at the vaccination point together with other executives.
While inspecting the vaccination point at Galaxy Macau this morning, Dr. Lo Iek Long and Dr. Liang Sung Wen expressed their support to the medical workers and cheered on the GEG team members getting their shots.
They also exchanged views about vaccinations with the GEG team. Dr. Lo said, "We are glad to see the enthusiastic participation from GEG team members in the vaccine drive. We believe that more GEG team members will be encouraged to get vaccinated with Mr. Francis Lui taking the lead.
On behalf of the Health Bureau, I would like to thank GEG for actively promoting vaccine information to their team members and making related arrangements to help facilitate the vaccination work. With a rebound of the pandemic situation in neighboring cities, all sectors of the community in Macau should continue to strictly implement related prevention measures, and citizens should make appointments for vaccinations as soon as possible."
GEG has been using various internal channels to provide vaccine information to its team members. Several executives recorded a video encouraging their colleagues to get vaccinated.
Furthermore, roadshows were held in back-of-house areas to provide information that team members should take note of when getting their shots and also to display QR codes for convenient vaccination bookings. Team members have supported the call and made their registration proactively. GEG team members who get their first and second shot of COVID-19 vaccine between June 1 and July 31 can enjoy up to two days of Special Vaccine Leave on the day of or the day following their vaccination in order to allow them sufficient rest.