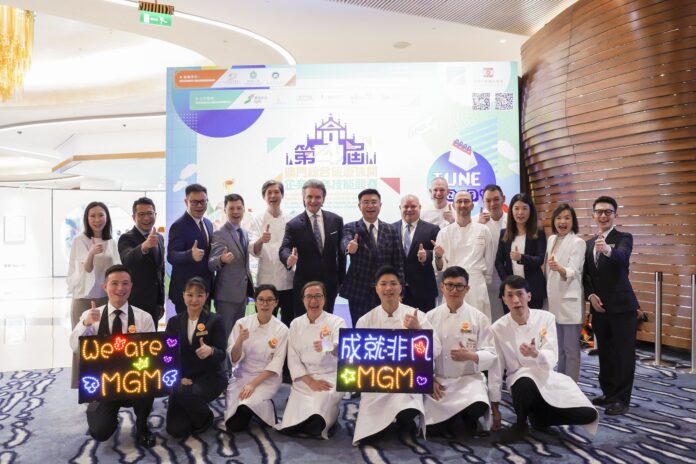 The MGM Golden Lion Team has attained a record-breaking achievement of winning nine distinguished honors, which are the highest in their categories, in the 4th Macao Integrated Tourism and Leisure Enterprises Vocational Skills Competition. 
Co-organized by the Labour Affairs Bureau and the Macao Federation of Trade Unions (FAOM), Macao Integrated Tourism and Leisure Enterprises Vocational Skills Competition is divided into the three categories, which are gaming, hotel services, and gastronomy, integrating elements of vocational skills, occupational safety, and professional services.
A total of 23 talented MGM team members participated in the Competition. With MGM's craftsmanship spirit and remarkable skills, they achieved greatness and demonstrated their professionalism and excellence. The Golden Lion Team has received Champion Award in Chipping, and Special Gold Award in Game Rules & Customer Service in the Gaming Vocational Skills Competition.
In Hotel Integrated Service Vocational Skills Competition, the Team has attained Special Gold Award and became the winner of Best Service in Room Make Up & Design. They have also won Special Gold Award, alongside with Best Work Safety and Best Teamwork in Facilities Maintenance. In Food & Beverage Vocational Skills Competition, the Team also earned the Special Gold Award and Gold Award in F&B Service and Western Cuisine respectively. During the contest, Hubert Wang, President & Chief Operating Officer of MGM, and Wendy Yu, Executive Vice President of Human Resources of MGM, also attended the event to show their support for the team.
This year, the participating team members are from four different departments. Through encouraging team members to compete against the best peers in the industry, MGM hopes to enhance the vocational skills and professionalism of its team members. MGM has always been devoted in nurturing talents for the local tourism industry, such endeavors include hosting professional certification trainings with DSAL, as well as launching the "Fostering & Nurturing Great Craftsmanship in Greater Bay Area" training series and "Young Craftsman Workshop" with Guangdong Federation of Trade Union and FAOM. All of these are to push forward the high-quality development of the industry and strengthen Macau's positioning as the World Center of Leisure and Tourism.