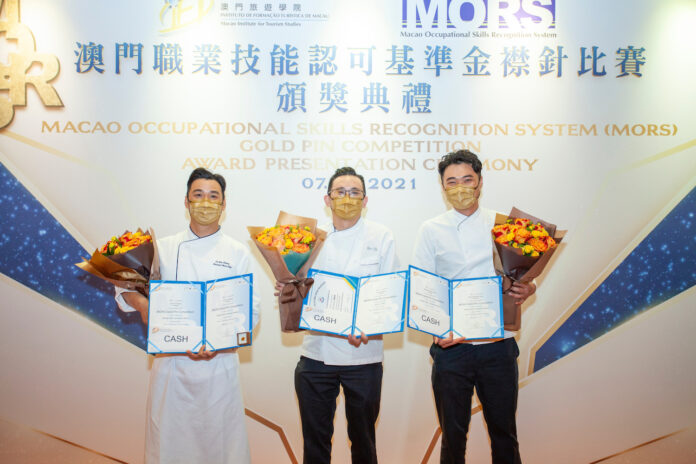 Galaxy Entertainment Group and MGM China said their team members had won awards in the 2021 Macau Occupational Skills Recognition System Gold Pin Competition.
MGM won five Gold Pins, making it the biggest winner of the year. Galaxy won three Gold Pin Awards.
A professional honor recognized by the local hospitality industry, the Competition provides a platform for contestants from various disciplines to showcase their professional skills and pit their talents against the best in the industry.
There were 10 categories to this year's competition, which, attracted elites from various organizations in the local tourism and service industry. After two rounds of elimination, seven Galaxy team members reached the finals with their extraordinary performance and profound knowledge, among them, Mr. Bong Ming Han James, Executive Sous Chef from Galaxy Macau™; and Mr. Lei Wai Cheong, Chef de Cuisine from StarWorld Hotel, garnered the two Gold Pin Awards in the category of Chinese Chef (Cantonese Cuisine).
In addition, Mr. Ng Choon Kiat, Executive Sous Chef of Galaxy Macau, also took the Gold Pin Award in the category of Western Chef, and was presented the line level certificate by the American Hotel and Lodging Educational Institute (AHLEI). Each winner was also awarded a lapel of MORS Gold Pin, a certificate, a cash prize of MOP8,000 and a sponsorship of MOP2,000 for continuing education courses. 
In this year's competition, there were a total of 267 contestants representing 29 organizations in Macau, in which 77 contestants were shortlisted for the finals. MGM team members participated in 10 categories, including Chinese Chef (Chinese Cuisine), Chinese Chef (Dim Sum), Western Chef, Waiter/Waitress (Western Restaurant Service), Waiter/Waitress (Chinese Restaurant Service), Bartender, Concierge and Bell Attendant, Front Desk Agent/Customer Relations Officer, Room Attendant, and Security Officer for Tourism and Gaming Industry.
The five MORS Gold Pin winners represent various disciplines, including: Nguyen Thi Minh Phuong, Commis; Navarro Alberto Miranda, Food & Beverage Supervisor; Lu Jiaen, Room Attendant; Wong Ka Fai, Bell Supervisor; Leong Ngai Seong, Senior Security Officer. Celebrating such remarkable achievement, MGM executives and senior management together with Golden Lion Team Members have also attended the award presentation to show their appreciation and support.