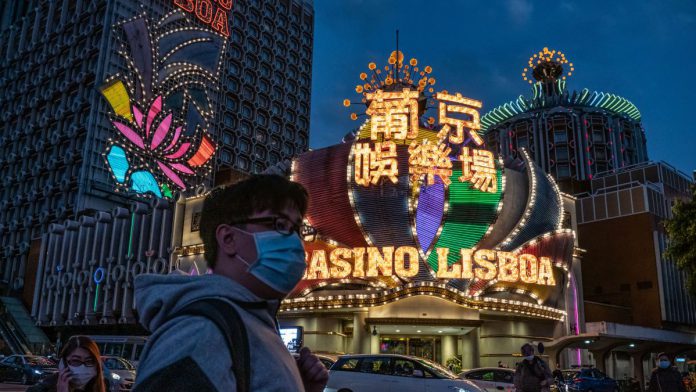 Macau's monthly gross gambling revenue disappointed to the downside again in November, prompting another round of estimate cuts and further pushing out the prospects for a full recovery.
The lights are on in its impressive casinos and according to indicators of luxury spending and travel on the Mainland, the desire and ability to travel are still intact. What isn't is the ease of visa processing and there is no current visibility on when that might change.
The November results were down 70.5 percent at MOP6.74 billion ($844 million). That's lower than the MOP7.27 billion of the month before, although that's not a big surprise given the Golden Week holidays in October.
The final monthly decline was roughly in line with expectations, as analysts had been revising their estimates as the picture weakened during the month. At the beginning of November, Deutsche Bank analysts had been looking for a decline of 64 percent.
The bank has now cut its fourth quarter estimate to $2.76 billion, down from $3.16 billion prior. It sees the market recovering to $26.60 billion next year, that's weaker than the $28.8 billion it had initially been forecasting.
For 2022, the prediction is for $29.31 billion from $31.72 billion. 
Bernstein notes once again that the key factor holding back recovery is the bottlenecks in visa processing in China. Weakness in VIP volumes was also a limiting factor.
"The key jump in visitors will come when visa processing becomes same day and via e-kiosk again, which may take some time," it said. "However, we are not likely to see material alleviation of bottlenecks in the near term."
Given the minimal recovery in revenue almost a year into the crisis, it's perhaps remarkable to note that most analysts expect all of Macau's major operators to be generating a profit on an EBITDA basis by the end of the year. 
A concerted effort to cut costs and improve operating efficiencies has paid off. That together with a recovery led by premium mass and eventually mass, should lead to an outsize improvement in margins in the future. 
Bernstein expects GGR to be back to 2019 levels by 2022, but "the business mix will be more favourable."
The firm is currently predicting a 60 percent drop in GGR for December.