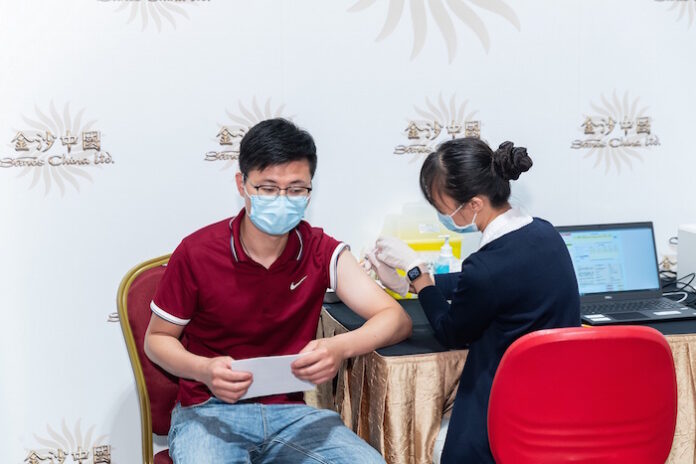 Sands China and SJM Holdings have announced mass vaccination programs for their employees as operators increasingly get behind a push to improve Macau's poor immunization rate. 
Sands said it has been proactively working with the Health Bureau to encourage and facilitate its team members and their families to get vaccinated against COVID-19, doing its part to help Macao build an immune barrier, so that members of the public and people from all sectors of society can resume normal lives as soon as possible.
The company held a seminar entitled COVID-19 Vaccine: Path to End the Pandemic on May 27, and is offering group vaccination sessions May 31-June 3.
A vaccination centre at SJM's Grand Lisboa's Grand Ballroom will be set up on 21 and 22 June for SJM's team members and their families and friends. Each team member who gets vaccinated can enjoy up to three days' special paid leaves and the chance to win lucky draw prizes.
"The COVID-19 vaccine is the key to helping Macao achieve herd immunity as quickly as possible, and our thanks go to the Health Bureau for their collaboration on this seminar and vaccination drive," said Sands China Ltd. President Dr. Wilfred Wong.
"Sands China encourages team members to get vaccinated to protect themselves and their families by helping Macao build an immune barrier together. We want people in Macao to be able to resume normal lives as soon as possible, and we hope this seminar and these onsite vaccination sessions help improve the vaccination rate. Sands China will continue to make every possible move to protect guests and team members from the coronavirus, such as via temperature screening at all entrances and by maintaining social distancing."