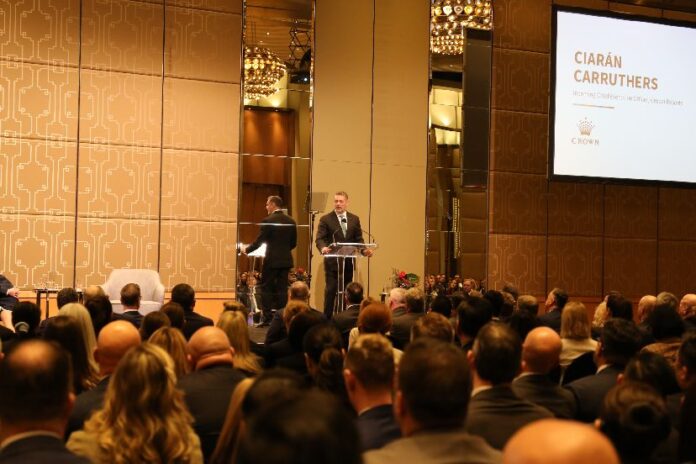 Crown Resorts' new CEO, Ciarán Carruthers, addressed thousands of the company's team members across the country, sharing his vision for Crown Resorts and his experiences from 30 years in the industry.
Ciarán Carruthers was announced Crown CEO on July 7, to commence in September 2022, while working through a transitionary period with the previous long-standing CEO, Steve McCann.
Ciarán Carruthers is a highly regarded global gaming and hospitality executive with proven experience running some of the world's largest integrated luxury resorts and gaming facilities, Crown noted in their earlier release.
He brings more than 30 years of experience to Crown, having built his career with large US gaming and integrated resort companies operating in some of the most highly regulated gaming jurisdictions in the world.
At his previous posting at Wynn Macau, Ciarán Carruthers was responsible for overseeing all operations at Wynn Macau, including gaming. Prior to that, he was the Senior Vice President and Director of the Venetian and Plaza Operations for Sands China Limited. He has also held several senior operational roles at casino resorts in Southeast Asia, the Philippines, and the US Pacific Islands. 
In his appointment comments, Ciarán Carruthers said: "I have been following Crown's journey for some time now and am excited to join the company at a significant moment in its history. The reform, remediation and cultural transformation that have occurred under Steve's leadership have been extraordinary, and I would like to congratulate him and his team for what they have achieved to date. I am committed to continuing that important work to ensure Crown achieves its ambition to be a world-leader in the delivery of safe and responsible gaming. 
"I am extremely passionate about our industry and providing customers with exceptional entertainment and hospitality experiences. I have stayed at Crown many times and know how dedicated and customer-focused its people are, and I'm looking forward to working closely with them, along with the Governments, regulators, unions, and customers, as Crown enters this new era. 
"On a personal level, my family has called Australia home for nearly 20 years, and it has always been close to my heart. We are looking forward to beginning this new chapter in Melbourne," Carruthers added.