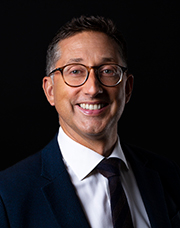 Mr Anthony Ingham joined the Hong Kong Jockey Club on 7 December 2020 as Executive Director, Membership, Strategic Marketing and Branding (Designate)  and assume the role from 1 January 2021.
Mr Ingham brings 20 years of in-depth experience in brand transformation, strategic marketing and customer experience development for globally renowned luxury and lifestyle hospitality brands. Prior to joining the Club he worked for Marriott International leading brand strategy, marketing and guest experience execution for some of its major hotel brands. He was appointed Global Head of the W Brand in 2015 being responsible for developing and executing a holistic brand transformation of W Hotels. In 2018 he took on additional global responsibility for The Luxury Collection Hotels and Resorts, a 115 strong portfolio of luxury hotels. Previously he spent ten years with InterContinental Hotels Group.
Mr Ingham holds a Bachelor of Science degree in Business Administration from the University of Bath. He attended King George V School in Hong Kong and is looking forward to returning to the city after many years away.