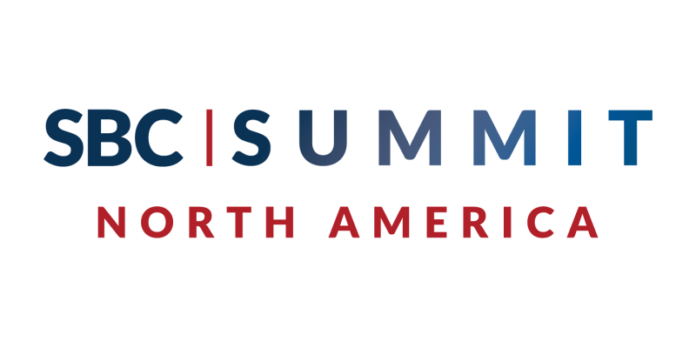 SBC Summit North America is set to feature a speaker lineup that includes high-level representatives of all the major sports betting and igaming operators in the region. 
The conference and tradeshow at Meadowlands Exposition Center, New Jersey on November 30 – December 2, 2021 will be the year's largest gathering of online gambling executives from the U.S. and Canada, as they come together to learn, network, and take a first look at the next generation of industry technology.
The audience can look forward to hearing insights about the current state of the fast-moving industry and ideas for the next steps in its growth path from a host of experts, including keynote speakers from Bally's Corporation, Caesars Entertainment, and the American Gaming Association.
Executives and specialists from major mobile operators feature heavily on the roster, including BetMGM, DraftKings, FanDuel, Penn National Gaming, Caesars Digital, Kindred Group, Carousel Group, Bally's Corporation, and PlayUp US among the participants.
The eight-track agenda for the conference covers all the key issues shaping the future of the industry in the region, with content on technology, regulation, the relationship between betting and professional sports, payments and compliance, online casino gaming, the tribal gaming sector, marketing strategies, and investment.
To deliver valuable insights on these topics, experts from stakeholders across the industry have joined the 200-strong speaker roster.
There are also a host of regulators, government officials, and representatives of influential associations on the lineup, including Michael Golub, Deputy Attorney General, State of New Jersey, E. Sequoyah Simermeyer, Chairman, National Indian Gaming Commission, Dan Hartman, Director – Division of Gaming, Colorado Department of Revenue and more.
Sue Schneider, VP, Growth & Strategy for SBC, said: "We're delighted to mark our return to the U.S. by presenting what is undoubtedly the strongest speaker lineup ever assembled for a sports betting and gaming industry conference in North America, with all the major operators participating alongside renowned experts from across the sector.
"The high-level speaker roster, coupled with an agenda focused on the key legal, operational and technological issues, make SBC Summit North America the year's best opportunity to learn about the future of the industry from the sector's most influential and knowledgeable executives."
Ahead of the main conference on December 1-2, SBC and EPIC Risk Management are staging the Player Protection Symposium at the 40/40 Club in Manhattan on November 30. It will see representatives from the betting industry, professional sports teams and leagues, and the media discuss how to build a robust gambling harm prevention ecosystem.
In addition to the conference, SBC Summit North America attendees can look forward to seeing the latest industry innovations on the 50-booth tradeshow floor and to a program of evening networking parties at venues including Jay Z's 40/40 Club, the MetLife Stadium, and The Rooftop at Edison Ballroom.