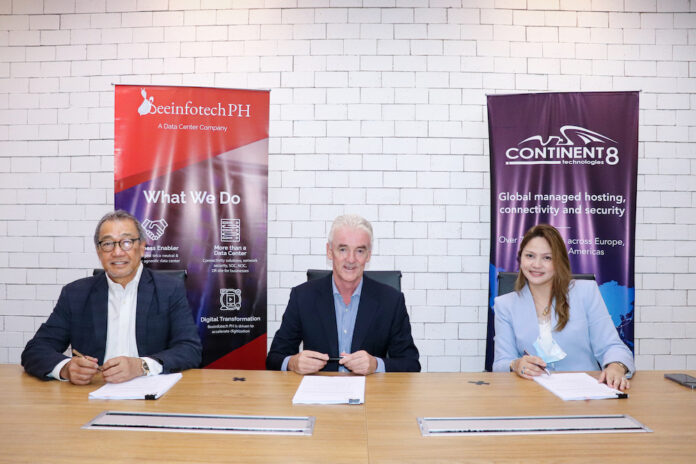 The Philippines largest telco neutral data centre operator Beeinfotech PH, has entered into an agreement with global managed hosting, connectivity and security provider, Continent 8 Technologies, to help businesses in the Philippines and across Asia strengthen their security services.
The partnership comes at a time where cyber-attacks and security risks are at an all-time high, with businesses of all sizes and across all industries requiring effective security measures to combat these threats.
Beeinfotech PH will leverage three of Continent 8's leading cyber security solutions; its scalable DDoS protection, powerful Web Application Firewall (WAF) and market-leading Security Information and Event Management (SIEM) system.
These will be offered to major corporations, telcos and service providers in the Philippines and across Asia as three products – BProtect DDoS powered by Continent 8, BProtect WAF powered by Continent 8 and BProtect SIEM powered by Continent 8.
The DDoS solution allows organisations to protect their business critical, online environments from volumetric and persistent attacks, the WAF solution defends applications against a wide range of threats, while the SIEM solution is the foundation of a business's cyber defence strategy, with a fully managed 24/7 SOC monitoring platform. 
Reynaldo Huergas, President and CEO of Beeinfotech PH, said: "Network security is a technology and support game. Through this agreement, Beeinfotech PH takes charge of the infrastructure, local manpower and coordination while Continent 8 brings in global managed solutions and best practices.
"This is a powerful combination that will allow businesses in the Philippines and across Asia to be confident they are doing all they can to mitigate the risk of falling victim to a security attack."
Peter Williams, Managing Director for Asia Pacific at Continent 8 Technologies, said: "Our decades of experience in protecting the world's most valuable information has given us vast knowledge on how to best tackle the issue of network IT security.
"Our collaboration with Beeinfotech PH enables us to provide businesses with bespoke solutions with local support. With Beeinfotech PH's telco neutrality, we are able to protect all business across all sectors."