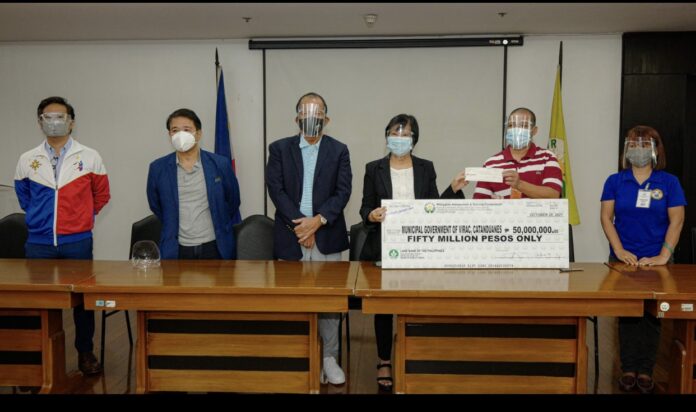 The Philippine Amusement and Gaming Corporation (PAGCOR) said the provinces of Oriental and Occidental Mindoro, Virac, Catanduanes and Victoria, Tarlac have become the latest beneficiaries of its Multi-Purpose Evacuation Center (MPEC) project.
Each recipient province received P50 milliongrant from PAGCOR for the immediate construction of two-storey MPECs in their areas.
PAGCOR Chairman and CEO Andrea Domingo together with the members of the Board formally turned over P25 million each – which represents the first tranche of the P50 million funding – to Occidental Mindoro Governor Eduardo Gadiano, Pola Mayor Jennifer Cruz of Oriental Mindoro, Virac Mayor Sinforoso Sarmiento of Catanduanes, and Victoria Mayor Christian Tell Yap of Tarlac.    
Because of the recent grant, PAGCOR has now initially released a total of P1.084 billion for the construction of the 48 PAGCOR-funded evacuation centers nationwide.  
Domingo expressed optimism that PAGCOR's MPEC project will properly augment the evacuation facilities of many local government units (LGUs) and ease the burden of evacuees. "We are very happy that we are able to help LGUs through this long-term project. With the completion of these evacuation centers all over the country, many of our kababayans will have a safe place to go during the typhoon season," she explained.