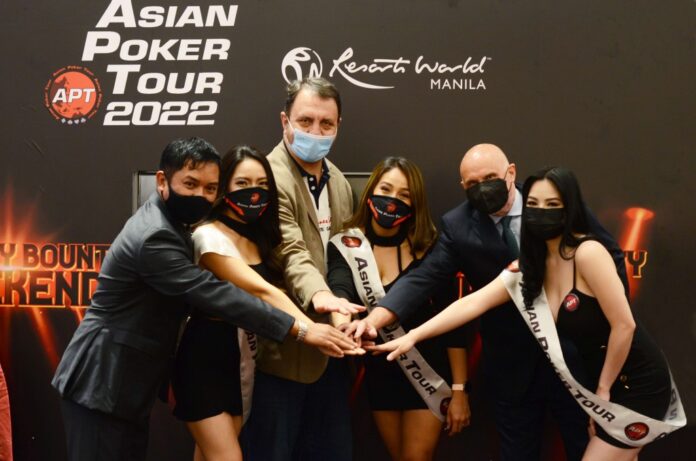 The Asian Poker Tour (APT) and Resorts World Manila (RWM) signed a new exclusive agreement to ensure that, each year, at least two major APT Poker Festivals will continue at RWM until the end 2023.
The new dates for the Asian Poker Tour Festivals are: April 27 – May 8, 2022 and September 7 – 18, 2022.
This year marks the twelfth year of the APT-RWM partnership in the Philippines which has seen the staging of 25, very successful, international poker events and festivals to date.
Year on year, the APT events held at Resorts World have attracted an increasing number of players – both international and local – with record player entries; record prize pool payouts, and a bigger variety of events; all achieved in 2019.
Making the announcement Jeff Mann, CEO, Asian Poker Tour said: "It's just so good to be back"!
"Like many live, large scale events, we had to take a break for two years because of Covid, but we are already targeting at least 8 major events in Asia this year and I am delighted – and it is appropriate – that we start on our post Covid 'build back stronger' campaign with our long term partner Resorts World Manila" said Mann.
"Before the pandemic, RWM had plans in hand to establish the largest poker room in Asia" added Hakan Dagtas, EVP and Chief Gaming and Marketing Officer, Resorts World Manila. "With the Casino now returning to normal operations, those plans are firmly back on the drawing board. Our goal: to spearhead the initiative to ensure Manila becomes the poker capital of Asia."