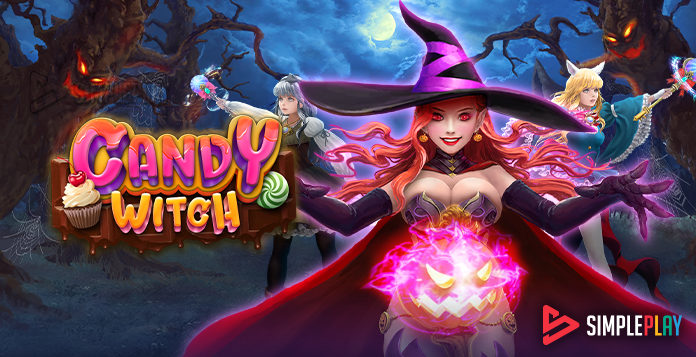 Slot supplier SimplePlay has launched its Halloween-themed game "Candy Witch". It features the great battle between a heroine and the evil Candy Witch. Our heroine, who was a little girl, could transform herself into a powerful sorceress to fight against the evil Candy Witch.
"Candy Witch" is a 3×5-reel, 30-line slot. The Base Game takes place in the silent woods where the little girl fearlessly confronts the evil Candy Witch. The girl's transformation device acts as the Wild Symbol, which can substitute for all symbols except for the Scatters.
In this game, players have to collect Scatter symbols to trigger Free Games. As we have two characters, there are two types of Scatters in "Candy Witch". Scatter 1 is the Candy Witch with a ruby. Scatter 2 is another pretty sorceress, which is the transformed version of our heroine.
Whenever any Scatter appears on the reels, it will be collected and counted in the meter. Two Scatters are counted separately in two meters (Scatter 1 on the left top corner of the reels, Scatter 2 on the right top corner).
Collecting 80 Scatter 1 leads to Free Games that take place deep inside the woods where Candy Witch resides. There, players can have up to 240 Stack Wilds appearing across the reels.
Collecting 60 Scatter 2 leads to the magical treehouse where our heroine sorceress lives. This is the place where players can enjoy multipliers of up to 24x! As there are 12 Free Spins, players start with a 2x multiplier for the first spin, then a 4x multiplier for the second spin. At the last Free Spin, there will be a 24x multiplier, giving huge winnings!
This game is a Halloween-themed slot. It features gorgeous fighting scenes and glamourous transformation processes. It is a game not to be missed this quarter!