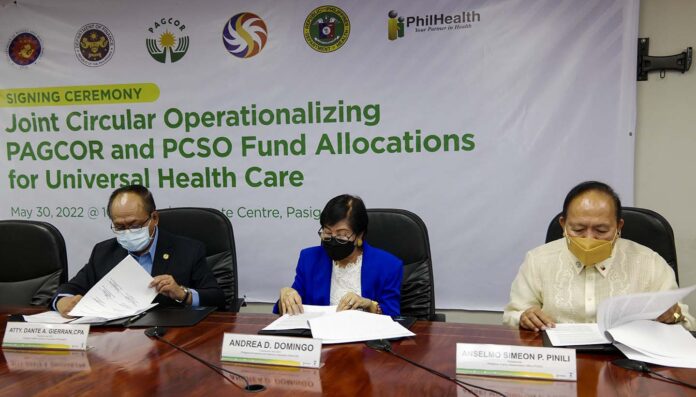 The Philippine Amusement and Gaming Corporation (PAGCOR) and the Philippine Charity Sweepstakes Office (PCSO) formally signed on May 30, 2022, a joint circular operationalizing their respective fund allocations for Universal Health Care (UHC).
Said circular – which details the operational guidelines for both agencies to remit funds to the General Appropriations Act (GAA) as National Government Subsidy for the improvement of benefit packages – was signed by PAGCOR Chairman and CEO Andrea Domingo and PCSO Chairperson Anselmo Simeon Pinili at the Philippine Health Insurance Corporation (Philhealth) head office in Pasig City.
They were joined in the event by key officials from the DOH, Department of Finance (DOF) and PhilHealth.
In her message, Domingo underscored PAGCOR's contributions to nation-building, such as the P65.55 billion remittances to the National Treasury alone from 2019 to 2021. Fifty percent of said amount was allocated to PhilHealth to fund the UHC law.
"This means we have already given almost P33 billion for healthcare from 2019 to 2021, and I think it would greatly help the UHC program now that consultations for primary care will be shouldered by PhilHealth," she explained.
For his part, Pinili stated that the UHC remittance guidelines signed by PAGCOR and PCSO jointly seek to provide mechanisms for transparent, accountable, timely and sustainable fund provision for benefits improvement of the National Health Insurance Program (NHIP).
"With our sustained funding support for Malasakit Centers and the Universal Health Care, the PCSO Board hopes to make our state-run lotteries closer and relevant to the lives of the Filipino people, in support of President Rodrigo Duterte's vision and initiatives to make health for all Filipinos a reality," he expressed.
Among the benefits that will be improved in consultation with PAGCOR and PCSO include select medical and surgical procedures; expansion of case rates for hemodialysis up to 156 sessions; enhancement of benefit packages for selected orthopedic implants, post kidney transplant, breast cancer, prostate cancer, cervical cancer, open heart surgery for children; and physical medicine and rehabilitation.
Under the UHC law or Republic Act 11223, half of the national government's share from PAGCOR's income, as well as 40 percent of the charity fund of PCSO, shall be utilized to fund the program.
The UHC law, signed by President Rodrigo Duterte in February 2019, automatically enrolls all Filipino citizens, including overseas Filipino workers in PhilHealth, which will have expanded coverage to include free consultation fees, laboratory tests and other diagnostic services.
The needed funding for the said benefit expansion shall be released to PhilHealth through the GAA beginning the year 2023. #