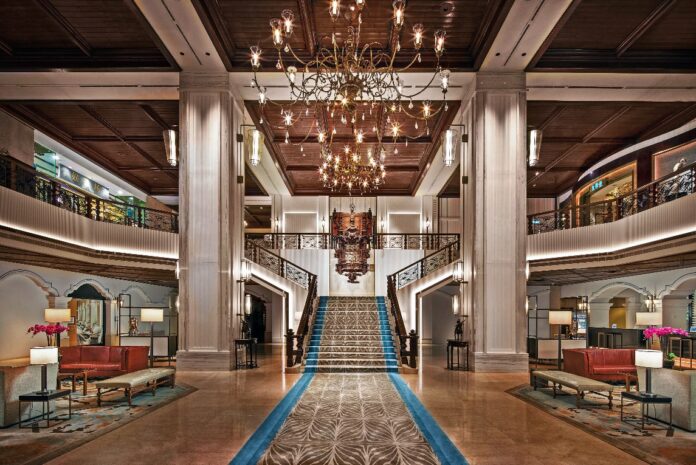 Grand Lapa Macau, located adjacent to Sands Macao on the Outer Harbor Ferry Terminal has announced it has rebranded as Artyzen Grand Lapa Macau.
"We are delighted to announce the launch of the Artyzen Hotels and Resorts brand in Macau, China," said Peter Wynne, Senior Vice President of Artyzen Hospitality Group. "We look forward to welcoming our guests in this artistic enclave where we celebrate the beauty of Macau's tradition, its unique Sino-Portuguese heritage, and most importantly the hospitality of the Macanese community."
The Grand Lapa Macau was first established in 1984 as 'The Only Urban Resort in Macau'. Under the new name, the hotel carries the mission to bring the brand philosophy of Artyzen Hotels and Resorts to life by infusing the wisdom of art and craftsmanship into the property and by engaging guests to discover the old and the new through bespoke experiences. 
The renovation was recently completed, with modern touches noticeable throughout the hotel with a classic, yet contemporary design, offering refined lifestyle and leisure experiences.
"We are thrilled to begin a new chapter where we bring exciting artistic and cultural elements to the hotel. We aim to be loved by guests for the relaxing resort facilities, for the personal touches and graciousness we provide, all delivered with genuine passion. We introduce a landmark, celebratory concept this summer to welcome our dearly beloved guests in our rebranding journey," said Mr. Rutger Verschuren, Area Vice President, Macau Operations of Artyzen Hospitality Group and General Manager of Artyzen Grand Lapa Macau.
As a close friend to Macau's community and a historically poignant establishment within Macau, Artyzen Grand Lapa is organizing a Summer Celebration Campaign with a kick-off event in June, followed by a collection of new experiences crafted specifically for families and couples to enjoy.
The Family Package will offer a Mom and Child special spa treatment, a kids' arts and crafts session, kids amenities package, kids care, a culinary school for kids, and lots more. The Couples Package will offer the wine and dine special at Café Bela Vista, Wine Tasting by Artyzen, UNESCO Guided Walk, art gallery tour, and special offers on spa and wellness programs.
Details will be announced in June.