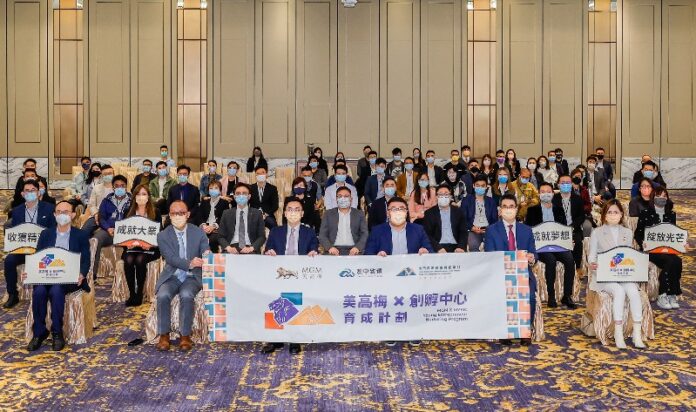 The "MGM x MYEIC Young Entrepreneur Nurturing Program", co-organized by MGM, Parafuturo de Macau (PFM Macau) and Macao Young Entrepreneur Incubation Centre (MYEIC) recently held its second edition, aimed at nurturing local young entrepreneurs. 
Comprised of a sharing session and a hotel back-of-house green tour, the most recent session on March 23, 2022 enabled participants to learn more about the sustainable development of integrated tourism and leisure enterprises.
Keith Lei, Vice President of Low Carbon Green Hotel Alliance and Vice President of Human Resources of MGM, and Herman Chan, Executive Director of Facilities Management, were invited to introduce the sustainability belief of MGM, alongside the hotel's experience on implementing measures of environmental protection, carbon emission reduction and waste recycling.
The session was to inspire local young entrepreneurs to explore new opportunities in the emerging green economy, through learning about the requirements, purchasing standards, facility management and supply chain of MGM. In addition, a networking session was also arranged prior to the event for participating young entrepreneurs to exchange ideas of their businesses with MGM team members.
The sharing session was followed by a green tour visiting green facilities at MGM COTAI, led by Simon Leong, Executive Director of Purchasing of MGM and Lam Ka Vai, CEO of MYEIC. Participating MYEIC members, whose start-up projects involve green technologies, such as AI recycling tools, eco-friendly sanitization, and sanitizing robots, agreed that the session has been constructive.
The "MGM x MYEIC Young Entrepreneur Nurturing Program" is a two-year incubation scheme jointly organized by MGM, PFM and MYEIC, and is honored to be supported by numbers of local youth associations. First introduced in 2020, the second edition of the Program continues to provide pragmatic support to local young entrepreneurs with a diverse range of events,