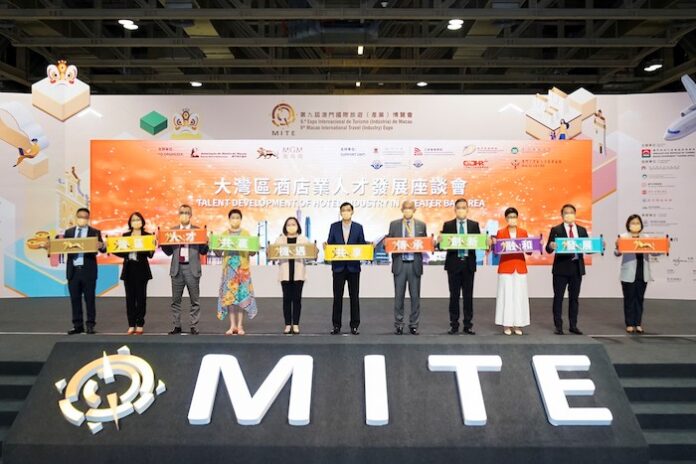 MGM teamed with Macau Hotel Association (MHA) to host the "Talent Development of Hotel Industry in Greater Bay Area" symposium at the 9th Macao International Travel Expo (MITE).
Scholars and industry leaders from Macau and the GBA were invited to share their insights on the talent development situations and trends of the hotel industry in the region.
The scholars introduced the resources currently available for hotel talent growth and development in the GBA, including "The Alliance for Developing Macao into the Guangdong-Hong Kong-Macao Greater Bay Area Tourism Education and Training Base", "Tourism Education and Training Base for the Guangdong-Hong Kong-Macao Greater Bay Area", "Macao Occupational Skills Recognition System (MORS)" and "MORS Gold Pin Competition".
Wendy Yu, Executive Vice President of Human Resources of MGM, said, "MGM is beyond honored to host this cross-disciplinary symposium on talent development in the hotel industry of the GBA. Being an enterprise rooted in Macau, MGM truly recognizes the importance of talent development to the growth of economy and hotel industry in Macau. In the future, MGM will continue to boost the integration between academia and the industry, as well as having more interactions and exchanges with other industry peers to contribute in hotel talent development for both Macau and the GBA."
Donald Li, Executive President of Guangdong Human Resources Management Association, said, "Each of the 11 cities in the GBA has their own competitive advantage. Hotel industry talents in Mainland cities have advanced capabilities in technologies application, whilst talents in Macau have innate international vision. As we believe that our industry talents can benefit from the seminar, we hope to have more exchange opportunities for our industry peers, so that they may bring out their strength and promote the integration of Macau into GBA.