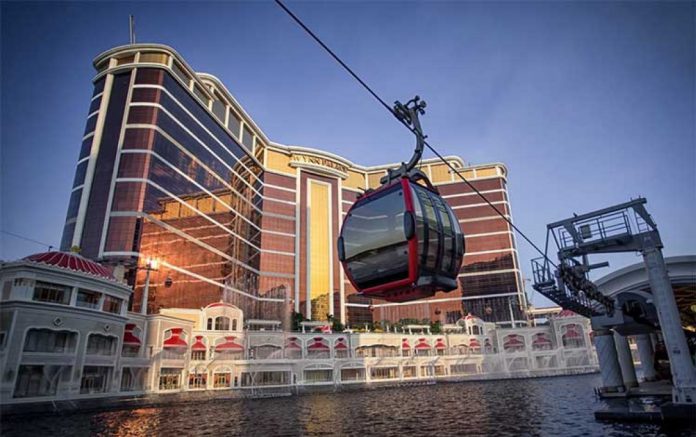 Wynn Resorts was upgraded to "Neutral" from "Sell" at Citi due to optimism over the company's premium mass business in Macau after it reported better-than-expected Q4 results last week.
Although VIP still represents a significant portion of the group's earnings in Macau, Citi analyst George Choi said the company will generate an increasing amount of its EBITDA from the premium sector, which will also improve its earnings quality. 
Premium mass has higher profit margins that the VIP business.  
Bernstein also noted that the future for the company lies in its premium mass business and Wynn has been making changes at its properties to take full advantage of the sector.
The firm said Wynn has changed some of its food offerings and has also changed the configuration of high-end suites to create more entertainment spaces for small events.
Although Wynn's management has said it does not expect the VIP sector to go away completely, analysts warn the segment has been structurally weakened.
"The VIP market will see less players (especially smaller players) in the future," Bernstein said. "There will not be a quick VIP recovery as seen in the late 2016-2017 timeframe."
The VIP business had already been suffering from the impact of U.S./China trade tensions even before the pandemic struck. In addition to these two factors, Beijing has declared war on the illegal cross border movement of money for gambling, which will have a direct impact on the junket sector. 
Wynn reported $39 million in EBITDA for its Macau properties in Q4, compared with a loss of $112 million in the prior year. The results beat expectations and analysts said they would have been better still had luck not worked against the company. Hold was lower than normal in both the VIP and mass sectors. 
For Chinese New Year, management has said that it's expecting visitation levels closer to the October Golden Week holiday than over the busy Christmas period due to renewed virus clusters in China.
Beijing has also urged its nationals to stay at home and not to travel either overseas or within China to avoid taking Covid-19 back to rural villages.