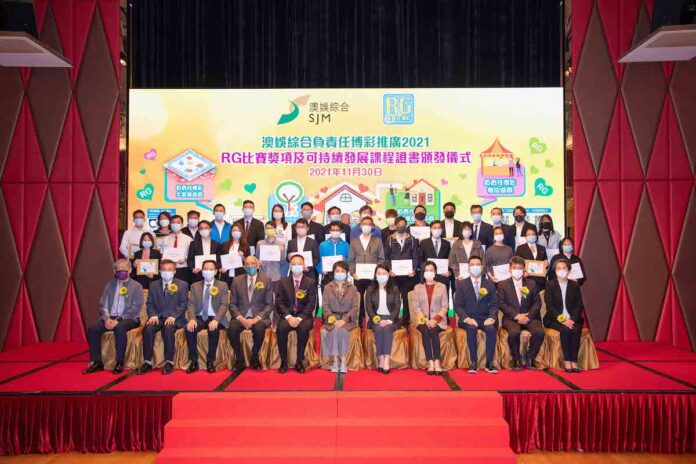 SJM Resorts said it has recently launched a series of activities based on the theme of the Macau SAR Government's responsible gaming promotional campaign, which this year is called "Lost Control, Lose Family". 
SJM Responsible Gaming Promotion 2021 – RG Award & Sustainable Development Planning Certificate Presentation Ceremony was held on 30 November 2021 at the Grand Ballroom of Grand Lisboa.
This year's responsible gaming promotion "Lost Control, Lose Family" allows employees and their families to have a deeper understanding of responsible gaming. In addition to allowing the participants to show off their creative talents, this event makes it possible to promote responsible gaming to a much larger audience. This competition already received an overwhelming response and more than 50 entries of short films, dolls and slogans, with the prizes being presented at the ceremony today. There were other games included such as a responsible gaming "Crossword Game", family game "Switch OFF Bad Habits, Switch ON Happy Family" and a quiz game "Tips on Gambling Debt and Finance for Family", with more than 4,000 participants.
SJM aims to enhance the awareness and knowledge of its staff. This year we have focused on responsible gaming training and promotion, including responsible gaming ambassadors training, special training for new and current employees and booth games at the back-of-house area, serving more than 6,000 people in total. SJM also collaborated with the Hong Kong Institute of Education for Sustainable Development in offering its staff members a Proficiency Certificate Course "Sustainable Development in Macau Tourism, Leisure, Entertainment – Responsible Gaming" for the third consecutive year. Two-hundred staff members completed the course and were awarded certificates at the awards ceremony today.
In order to promote responsible gaming across different channels, we have co-operated with Macao Gaming Industry Employees Home since the third quarter of 2021, where responsible gaming board game training is held regularly to allow colleagues to experience the issues encountered by families who have relatives with gambling addictions, with the aim to further understand the effects of gambling disorders on people and their families. The impact of assisting employees to face gambling addition with the correct attitude and insight shows that the number of participants is expected to reach five hundred.