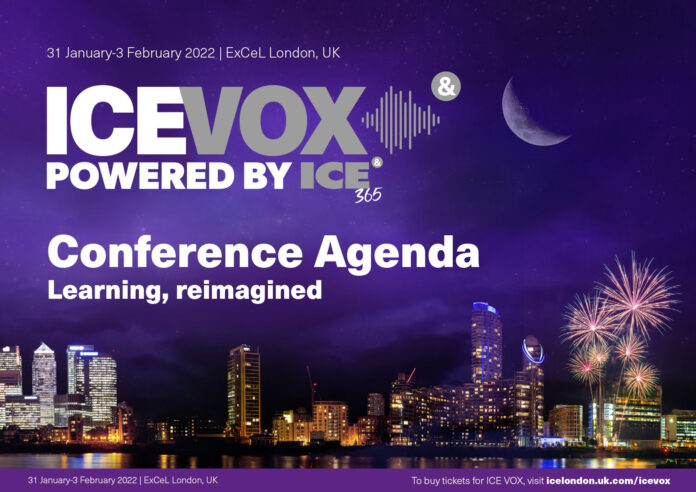 'Learning reimagined' is the theme of the 2022 ICE VOX agenda, with highly targeted Masterclasses to offer exclusive, actionable insights to delegates. The programme covers a range of business critical topics, which will be discussed and explored in full by a line-up of leading industry experts.
The Masterclass programme will run on 1-2 February, following ICE VOX's influential World Regulatory Briefing and International Casino Conference, on 31 January.
ICE VOX (31 January – 2 February) is part of a week-long international celebration of gaming taking place at ExCeL and which also features the world-renowned ICE London exhibition (1-3 February) and iGB Affiliate London (2-5 February).
"Having consulted with our stakeholder community, the challenge has been to deliver the exceptional content that ICE VOX is famous for but in a more user-friendly and flexible format," Pooja Samani, head of production for Clarion Gaming, explained.
"We have worked to create a focused programme that allows delegates to select and participate in more intimate discussions that drive into the details of key business issues, without interfering with their exhibition and meeting schedule on the show floor. This way they can participate fully in the totality of the London experience. Providing focused topics with a targeted audience over general content has been the driving force behind the new agenda.
"To facilitate this, the traditional conference streams for the World Regulatory Briefing and the International Casino Conference will be held as one-day events on Monday 31 January. This way neither encroaches on delegates' time on the show floor when the exhibition opens on Tuesday 1 February.
"On Tuesday 1 and Wednesday 2 February, delegates can then select the most relevant Masterclass and enjoy over three hours of closed door discussions and learning.
ICE VOX speakers and attendees will have access to a revamped VIP networking experience in the new World Pavilion space, with access reserved only for speakers, attendees and their guests. This gives attendees the opportunity to meet and bump into the industry's 'who's who' in ICE VOX, helping to filter networking opportunities from the ICE attendees on the show floor.
Each of the 12 Masterclasses in the programme across 1-2 February has been capped at 50 participants in order to facilitate more valuable discussions.
They comprise a 'Learn' section to enlighten participants on tried and tested business models and frameworks; 'Spotlights', which feature case study examples of best practice; and 'Shared Experience'sections, which will allow participants and speakers to engage in interactive tasks and discussions.
Masterclass programme: Tuesday 1 February:
(1) Customer journey land-based: How customer psychology can shape land-based and retail experiences
(2) Customer journey online: Transforming your team operations to produce an enhanced customer experience
(3) Safer gambling: Effective interaction and intervention
(4) US Masterclass: A blueprint to effective regulator and operator relationships
(5) Customer acquisition: Successfully structuring partnerships