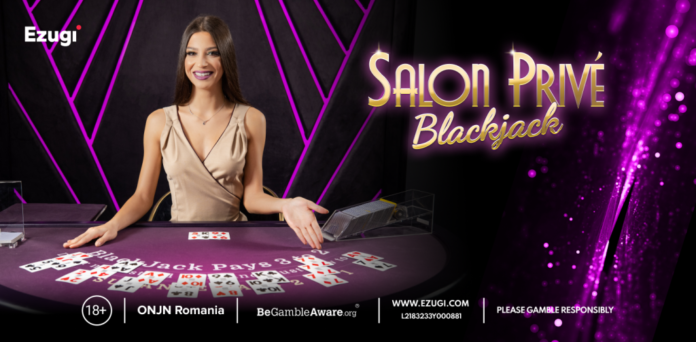 Ezugi has raised the bar and created a new level of luxury for players around the world, by releasing its grand Blackjack Salon Privé. 
Ezugi CEO, Kfir Kugler, comments on offering such an exclusive product and the benefits of allowing customers to play at their own pace.
Ezugi continues its announcements with the most elite and luxurious product in its portfolio to date. Working as part of the Evolution since 2018, Ezugi's brand-new studio provides the player with complete exclusivity – one player per table, and the ability to take up all seven seats.
Blackjack Salon Privé is an exclusive gaming environment offering high maximum bets for high-betting players and offers a completely private Blackjack table. Streamed from Ezugi's flagship studio, it features top VIP specialist dealers.
Offering a complete VIP experience, the Blackjack Salon Privé table offers players significant advantages. Players can ask dealers for a shoe change at any given time, and the privacy of the table ensures that players can take their time and play at their own pace – there are no betting times, and players decide when to start the game and when the cards are to be dealt.
Additionally, one of the key advantages of this Blackjack table is that no other players can play on this table or even watch – privacy all the way!
All this is encompassed within Ezugi's state-of-the-art studio. Set in a luxurious environment, players can feel the elegance and high-quality atmosphere throughout the game. Blackjack Salon Privé boasts an exceptional support team and players can enjoy this extra care and attention whilst playing.
Kfir Kugler, CEO at Ezugi, said: "Our aim here is to spoil players – they deserve only the best and we wanted to provide them with the ultimate playing experience, on every device. This new Blackjack Salon Privé is without a doubt the jewel of Ezugi and we're thrilled to be able to offer such an opulent product to high-roller players.
They can expect a unique experience, where they are the most important person in the room and can control and play the game at their own pace. In Blackjack Salon Privé, individualized taste and luxury is celebrated. We look forward to launching this product to our customers and hope to see a grand success."