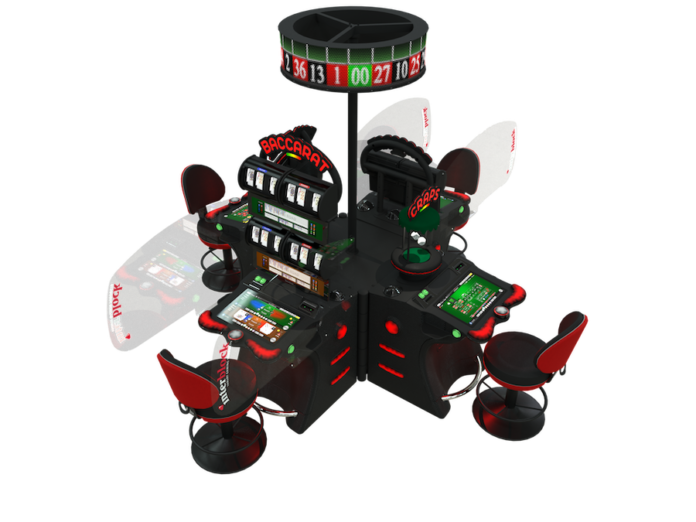 The global challenges of 2020 have not affected the ability of Interblock to innovate new products and features to adapt to the new normal. The Universal Cabinets and Roulette Golden Ball are the fruit of Interblock's labour for taking on 2021 and beyond.
The Universal Cabinets (UCs) operate with either an electro-mechanical RNG (real dice for Craps/Sic Bo) topper or a mechanical display of video (Roulette, Baccarat and Blackjack) topper with a spinning wheel and actual flip cards.
The UCs offers a flexible configuration for floor placement in a single stand-alone unit or carousels of 3, 4 or 5 UCs with maximum social distancing and player's comfort at its core design considerations.
All favourite ETG side bets from the G5 Diamond range are available with multiple language support for a fully personalised experience.
The Roulette Golden Ball is a unique feature utilising Interblock's multiple ball changer technology and offers Golden Ball Mystery and Lucky Ball Mystery side bets.
Golden Ball Mystery side bet wins up to 500:1 if the roulette ball lands on one of the six randomly selected roulette numbers represented by the letters G, O, L, D, E and N.
Lucky Number Golden Ball side bet allows the player to place a bet on a lucky number. The appearance of a golden ball guarantees a chance to win 3:1 unless the golden ball lands on a chosen number, which pays 350:1.
Whenever a golden ball comes out, the user interface changes to a golden glow, coupled with an attractive audio-visual display around the Roulette rim and a 42" Player Information Display (PID).
The side bets increase the hold of the traditional Roulette single zero and double zero games, increase occupancy and appeal to new types of players.
"Interblock has been working tirelessly to take years of innovation into a commercial reality with new products and features. It is a pleasure to offer to our valued customers and their members. We hope 2021 brings a better future for our industry," said Michael Hu, President of Asia for Interblock.